I feel pretty confident saying that most cowboys don't wear turtlenecks, but who even makes the rules? For Calvin Klein's latest, Raf Simons envisioned flossy drugstore cowboys as channeled through '80s new wave—something like the cowboys and poodles aesthetic but for Insta sophisticates—to encapsulate his vision for new America. Also, lots of trash-bag-ass raingear, both because the line is Spring 2018 and also because our present moment and foreseeable future is defined by climate change.
Kaia Gerber, who is most definitely not Rachel Bilson, made her debut; she is, as you might have surmised by looking at her, the 16-year-old daughter of Cindy Crawford, and presumed to be the next big supermodel legacy after others like Yolanda and Gigi/Bella Hadid or, my faves, Pat and Anna Cleveland. But what of her walk!
Here she is at :27. I turned to resident runway walk expert Hazel Cills to help complicate my initial feelings about it, which were "comme çi, comme ça." Hazel says: "Kaia looks absolutely FABULOUS strutting down this runway in what looks like a plastic Halloween costume."
Raf is trying to make the pop-art cowboy boot happen-slash-come back—we saw a version of these on his fall runway, too—and while I admire the effort, I'm not quite ready to pull out the Tony Llamas from the back of my closet, where they've been luxuriating since 2003. It feels too soon, and further the attempt to invoke Western flavor feels, psychically, a little too close to the impulse to accuse liberals of ignoring the white working class, which I didn't truck with then and I sure as hell don't truck with now. Also, is that a cow-print frock in the shape of a Victorian nightgown? I will take a hard pass.
G/O Media may get a commission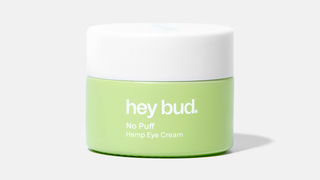 15% off
Hey Bud - No Puff Hemp Eye Cream
Plastic bags, though, I can get more down with, especially since our genetic make-up is already roughly 83 percent plastic anyway. "Balance your plastic pH on the outside," a prescient curmudgeon once said, "because plastic is how I feel on the inside." It's all very Iris van Herpen as mainstremed by Vetements, and A$AP Rocky, frowing next to Millie Bobby Brown, seemed to love it (see left photo), as he is the kind of person who matches his pants to his inflatable Balenciaga vest. Surely we'll see that gilded rain trench on him at some point in the near future.
Final judgement: it's fine.