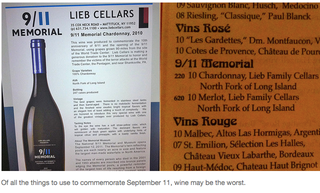 Just in case AC/DC wine wasn't enough, now there's 9/11 wine…for some reason.
Liebs Cellars in Long Island is promoting a wine that was made "using grapes grown 90-miles from the site of the World Trade Center."
Just when you think something doesn't need to exist, you find out it already does.
At the very least, according to the LA Times, "the winery donates 91.1 cents of every bottle to the September's Mission foundation."