Today putting out a product line is pretty much part of a celebrity's job description. Stars are constantly shilling their perfume, makeup, or cookware, but a few have released products so ridiculous, we're left asking, "what were they thinking?"
Ol' Dirty Bastard's Rap Snacks
Any food item featuring the name "Dirt McGirt" has to be on a list of the weirdest celebrity products, but there's actually a noble purpose behind Rap Snacks. According to the product website, the line of potato chips and popcorn features rappers on each bag, along with messages like "Stay in school" and "Respect your elders." It's mainly sold in inner-city areas and was purchased by Lil' Romeo in 2007.




Danny DeVito's Premium Limoncello
While it is weird that Danny DeVito makes limoncello, this is probably the most appealing item on the list. Just read this message from his website:
Go ahead — throw your arms around the goodness of life and enjoy every minute to the hilt! The best way to chill is with a bottle of Danny DeVito's Premium Limoncello — it's like pouring yourself a glass of liquid sunshine straight from Italy's Sorrentine Peninsula.
G/O Media may get a commission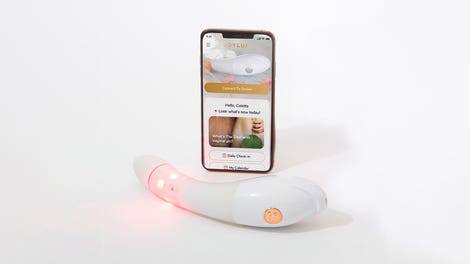 $50 Off
Joylux vFit Gold Device
Though we would have preferred it said, "it's like pouring yourself a glass of liquid sunshine straight from Philadelphia," it's hard to resist DeVito's commandment that we embrace the goodness of life by chugging a delicious lemony liqueur.




Jeff Foxworthy Jerky
According to the Monogram Foods website, Jeff Foxworthy was asked to put his face on a line of jerky because,
Monogram knew the broad appeal of Jeff Foxworthy provided the right opportunity for a celebrity brand that would compliment the quality of beef jerky products made in it's production facility in Chandler, Minnesota.
Jerky + Blue Collar Comedy Tour clearly go together, but don't think this fine processed meat product is just for rednecks. JeffFoxworthyJerky.com says,
You might be a redneck, or know someone who is, but Jerky also appeals to classy women, anglers, hikers, skiiers, snowboarders, hunters, extreme sporters and the dietary concious. An excellent source of protein that is low in fat and high on tasty satisfaction!
However, an anonymous commenter on JunkFoodBlog notes that the Maple Brown Sugar Ham Jerky variety is so, "sickeningly sweet," he, "threw out the bag after I was unable to get through even half of it in 2 weeks." Yum!




Cheech Marin Hot Sauce
There's a simple reason Cheech Marin has a line of hot sauces — "Well," says Cheech, "they asked me." While he admits that he doesn't actually mix these products himself, he adds, "From my Mexican heritage I know a lot about chiles." Wait, shouldn't there be a pot reference here? Ah, the description says Gnarly Garlic Hot Sauce is "Up in Smoke." Nice.




Pimp Juice
Pimp Juice, which was inspired by the Nelly song of the same name, is billed as "Hip-Hop's #1 Energy Drink," but it's also the first energy drink to be denounced by the Project Islamic H.O.P.E., the National Alliance For Positive Action, the National Black Anti-Defamation League and the Messianic Afrikan Nation. These groups called for a boycott, saying the drink "degrades women and glorifies a pimp lifestyle," but Nelly countered,
Pimp Juice is anything that attracts the opposite sex; it could be money, fame, or straight intellect; it don't matter! Pimp Juice is color blind; you find it works on all colors, creeds and kinds; from ages 50 right down to nine.

Mr. T Cereal
Back in the '80s, there was nothing better than watching Saturday morning cartoons while chowing down on a big bowl of Mr. T Cereal. Why was it so great? Well, as Mr. T explains in this commercial, "It's cool." OK, honestly, it's just T-shaped Cap'N Crunch. For instructions on serving this culinary delight, check out this clip from Pee Wee's Big Adventure.




Carlos Santana Shoes
Carlos Santana launched his Carlos by Carlos line of women's shoes around 2005 with his wife Deborah Santana. Zappos admits that "Carlos does not design the footwear himself," however, "he is part of the design process."
Still, the line has been a success — apparently women want shoes that, "reflect the same passion, artistry, and energy generated by legendary rock icon Carlos Santana's music." It's also popular among male fans hell bent on buying anything Santana puts his name on, which is why UltimateSantana.com provides a "Guys's Guide to Buying Carlos by Carlos Santana Women's Shoes."




Jessica Simpson Dessert Treats Edible Cosmetics
Jessica Simpson has tried to sell us many products over the years, including shoes, luggage, and fake hair, but the most ridiculous was certainly her line of edible cosmetics. The Dessert Treats line included, "lipglosses, whipped body cream, fragrances, sugar shimmer, hair and body mist, body frosting, shampoo and body wash." Yes, shampoo. Ladies, never again will we feel the sting of rejection for not having hair that tastes like lollipops!




Sylvester Stallone High Protien Pudding
A few years ago Sylvester Stallone got into the supplement business, which actually makes perfect sense. And of course, if you're trying to market muscle-building products to men, you want to use the most macho food ever: pudding.
According to CarbSmart.com, Sly's "ready-to-eat protein puddings are quite literally packed with a whopping 20g of high quality protein in each serving." Plus they're lactose-free! You don't want to be contending with any digestive issues before you go toe-to-toe with Ivan Drago.
Sadly, Stallone was recent hit with a lawsuit over trade secrets, and this pudding is no longer on the market.




Steven Seagal Lightening Bolt Energy Drink
According to the website, "Steven Seagal's Lightning Bolt energy drinks are as unique as the man who created it." It's billed as the "only energy drink made of 100% juice," and is also the only beverage that comes in a racially insensitive flavor, allowing you to drink in the "Asian Experience."