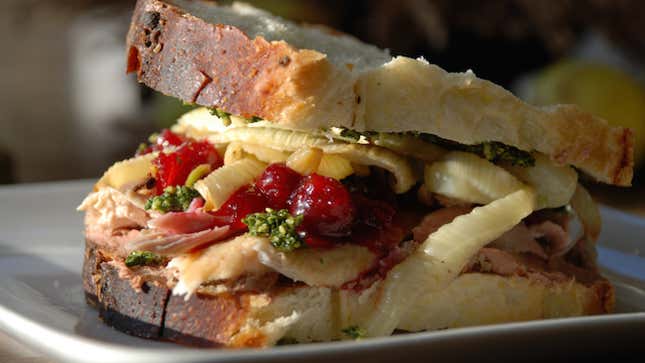 This is a new, semi-regular cooking column by Jean Grae. We haven't come up with a name yet because we're busy playing Fridge Tetris.
Fridge Tetris is: the game of packing absurd amounts of leftovers into your refrigerator in the most efficient manner.
Fridge Tetris is harder than regular Tetris in many ways.
The first and most obvious: it is real life with real objects that you have to arrange with your real-life hands.
Second, you have to be able to return and open the objects you have Tetricized, probably repeatedly and—most importantly—without them all falling out of the fridge and onto your feet or the floor.
If you have hosted Thanksgiving, you may also have been drunk whilst attempting to do the initial Fridge Tetris, and you may also be very stern about no one else understanding the dimensions of your fridge and/or your superior abilities to create a harmonious leftover arrangement.
Turkey. Turkey, turkey, and more turkey. No one, for real, has turkey in their fridge in mass quantities all year round, unless they are lunatics.
Man, there is a lot of turkey in there.
Stuffing, cranberries, mac and cheese, collard greens, pie, tarts…
You made a lot of food. A LOT of food.
Maybe everyone was trying to be better people and not eat so much.
You did not expect that.
Well, good for them.
You sent people home with plates and yet, somehow, this has not made a dent in the amount of leftovers you have.
Okay. What to do?
You're gonna get pretty sick of just making the same plate of food every time. Don't do that shit. You're better than that.
Allow me to assist you in pulling off the most glorious of glories.
The Thanksgiving Leftover Sandwich:
The Thanksgiving Leftover Sandwich is my favorite of all the leftover options known. It's kind of like making the same plate, but it's not, because fuck you, a great sandwich is a glorious thing.
Everything goes on this. The turkey, the cranberries, the stuffing. Leave no leftover untouched.
If you're making a hot version of this sandwich, toast the bread in an oven or toaster oven with a layer of Mac and Cheese sliced on each side. You don't have to go nuts with the mac amounts, but if you do, I'm not judging you.
You still have some great fresh herbs laying around? Sprinkle the fresh herbs on there. Rosemary, sage, thyme, parsley.
Throw whatever else you want on that thing.
The cold version gets mayo, a little pesto maybe? Are you fancy? Some red onion, arugula would be great. And I'm assuming you have leftover salad.
Yes. Use it. Fresh and crunchy, textures and moments in bites. All about it. Cucumber, watercress, arugula? DANDELION?
That's crazy. Add it.
Do you have bacon? Bacon would be great. Drizzle a little olive oil, a splash of apple cider vinegar (really your choice on the type of vinegar, but it always wakes up a sandwich), sprinkle on some black pepper. Maybe some cayenne for kick?
It should be a big ass sandwich. You should be able to close it and be very alarmed about putting it in your face and/or cutting it.
Got wax paper? Foil? Saran wrap?
Wrap the sandwich in the wax paper or foil first and then cut it. Boom, you own a deli now.
You can be cool and make that turkey into turkey salad, like a chicken salad. Mayo, a little lemon, maybe some walnuts, apple. Yum. Then put that on that sandwich. Boom. You own a FANCY deli now.
Beyond the wonderful idea of the leftover sandwich, the idea is to not be monotonous. Also, not to let food go to waste. Fry the mac and cheese by dipping cuts of it into some beaten egg and panko. I am not judging you. No one is judging you.
Cut turkey and use it in an omelet. Fantastic. You're so lean. Good job.
So, the idea here is that your leftovers have endless combinations. Play on the idea of combining them with fresh items and flavors, like acid, that wake it up again.
The best idea yet, however, is to make those plates and sandwiches and go feed some people less fortunate than you. It's cold outside where I am, and being cold, hungry and knowing that people are in a season celebrating food…. Yeah, no.
I'll be at Tompkins Square park in New York's Lower East Side this weekend, handing out some amazing leftover sandwiches and plates. Hopefully, you'll have some great leftover meals for your face and maybe some to give to others. Either way: Happy Tetrising!
Jean Grae does everything like a gangster. You can google her to find out and follow her on the internet and in real life.
Photo via kthread/flickr.