TLC's 1999 hit "No Scrubs" gave us a brilliant, succinct way to describe loser "buster" men. Ed Sheeran's 2017 single "Shape of You," which at least one Jezebel staffer enjoys, simply gave us earaches. (Relax, it's a joke!) Anyway, as so many astute music fans have observed, "Shape of You"—No. 1 in the country for the past seven weeks—kinda sounds like "No Scrubs."
As a result, ASCAP has reportedly updated its database. "Shape of You" now includes songwriting credit for the writers of "No Scrubs"—Kandi Burruss, Tameka "Tiny" Harris (formerly of Xscape) and producer Kevin Briggs. The credit appears alongside the originally credited songwriters, Ed Sheeran, Steve Mac and Johnny McDaid. Tiny celebrated the addition on social media, as did Kandi.
What's notable here is that regular people first noticed the melodic similarity and if not for the internet, it may well have gone uncredited or unnoticed. (Just check Twitter search for a backlog of comments.) What does this mean? That Kandi has even more to brag about next time a fake singer tries to get her in the studio on Real Housewives of Atlanta. Also, money. As Atlanta Journal-Constitution notes:
This means serious bonus cash for Burruss and Cottle without having had to do a thing after the fact. For "No Scrubs," they get paid for any public performance of the song, plus radio airplay. (Performers do not get paid for radio airplay.) They also get a very small cut of download plays. According to Mediabase 24/7, "No Scrubs" has been spun at least 443,319 times since 1999 although that seems awfully low. (If a station changes formats and a lot of them have since 1999, I suspect their historical numbers disappear.)
Sheeran has yet to address the credit. I've reached out to his reps, as well as Kandi's, and will update this post if I hear back.
A rep for ASCAP responded to me in an email:
"We don't actually comment on matters between writers, but you can find relevant information on our website in our ACE database: https://www.ascap.com/repertory. The information in ASCAP's ACE database is the most current information that we have for any particular work. The records for specific works and the parties with interests in those works may be updated from time to time, but we don't publicly track or disclose the various iterations of records of particular works."
G/O Media may get a commission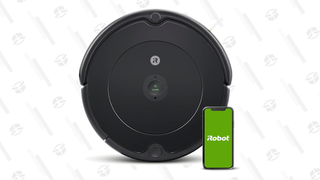 35% Off Black Friday Deal
iRobot Roomba 694 Robot Vacuum
"Shape of You"

"No Scrubs"
It's possible that Sheeran and his team would rather not be engaged in a legal battle, given that he's already been hit with multiple copyright lawsuits. In August 2016, for one, the family of Ed Townsend, the man who co-wrote Marvin Gaye's "Let's Get It On," accused Sheeran of lifting elements of Gaye's song for his single "Thinking Out Loud."

Below are two examples of people drawing attention to the apparent shared DNA between "Shape of You" and "No Scrubs," which includes a mash-up by Disney Channel star Sabrina Carpenter.