Taylor Santos, a high school sophomore from Springtown, Texas, claims to have a welted and bruised behind following a school-sanctioned paddling carried out by her male vice-principal. Texas is one of 19 states where corporal punishment is still legal and Santos, who was allegedly caught allowing another student to cheat off her work, chose spanking as her punishment as opposed to a two-day suspension with the consent of her mother. It is stated in the Springtown school district's policy, however, that corporal punishment must be carried out by a staff member of the student's same sex, a rule that the vice-principal claims to have been ignorant of.
Says Santos' mother Anna Jorgensen, "I knew school policy was females swatted females, and males swatted males. If Taylor wanted that, I said I would be fine."
Since discovering that her daughter's abuser was in fact male, Jorgensen has launched a complaint to the school district, claiming that the injuries inflicted on Santos (of which she has photographic evidence) were too severe:
"It looked almost like it had been burned and blistered, it was so bad."
Santos is one of two female students who have brought complaints against the same vice principal for his disregard of the rules and overzealous paddling. Fellow student Jada Watt was also spanked, though in her case, it was carried out in the presence of a male police officer.
In light of these events, Springtown ISD Superintendent Mike Kelley will be approaching the school board, not to request the dismissal of the vice principal or disallowance of corporal punishment altogether, but to abolish the same sex policy. The mothers of both Santos and Watt plan to attend the board meeting to fight to keep the rule in place.
G/O Media may get a commission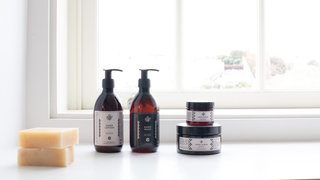 Exfoliate and Hydrate
The Handmade Soap Company
Mother's fury as Texas schoolgirl left 'bruised and blistered' after male vice principal SPANKED her for cheating [Daily Mail]
Mom Angry That Male Vice Principal Spanked Her Daughter [ABC News]
Image via marekuliasz/Shutterstock.