A week or so before Election Day, a tweet referring to Hillary Clinton as a "cunt" somehow made its way onto the account of Texas Agriculture Commissioner Sid Miller. Heavens! Who could've tweeted that tweet? Not Sid Miller, apparently, who is now blaming a "third-party vendor" that he says has been fired. This is a consistent, solid, and believable explanation and, hand to God, I can't think of a better one.
Ana Gasteyer Satirizes the Girl Boss in 'American Auto'
Just to refresh your memory, here's the infamous tweet, which has since been deleted:
Miller's staff first said his account had been hacked before blaming a staffer who "inadvertently retweeted a tweet that they were not aware contained a derogatory term," though, you might note, the tweet is clearly not a retweet.
G/O Media may get a commission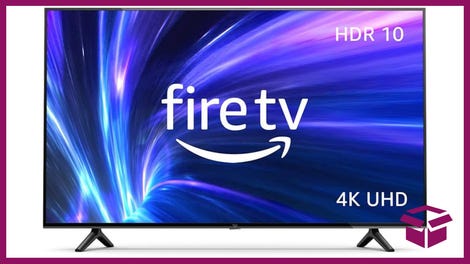 42% Off
Amazon Fire TV 50" 4K Smart TV
Now, the Austin-American Statesman reports, Miller and Co. are adding to this ridiculous story as though anyone believes these explanations or indeed cares. It was a staffer. It was a third-party vendor. It was someone who was fired immediately. It was someone who was fired after Election Day. It just wasn't Sid Miller, OK? From the Statesman:
Miller sent an apology to Department of Agriculture employees, blaming the tweet on a "third-party vendor" and saying that he is "dealing with the people that sent this tweet out," according to a copy of the letter provided to the American-Statesman by an agency spokesman.

A draft of the letter obtained through the Texas Public Information Act uses stronger language. In it, Miller says that "the person" responsible for the tweet will be "terminated and removed from any involvement with me or my campaign forever." In an email containing the draft, Assistant Agriculture Commissioner Walt Roberts sent the draft to department spokesman Mark Loeffler and said Miller "approves of it."

Miller campaign spokesman Todd Smith declined to identify the campaign worker who sent the tweet but said that it was someone working for a third-party vendor hired to do social media for Miller. Smith said the campaign worker was effectively let go when the firm's contract with the campaign expired on Election Day.
The core claim here is that someone was hired to do Sid Miller's social media. Never mind that Sid Miller previously bragged on October 28 that his tweets were all him, baby: "#CrookedHillary needs a dozen people to check her tweets. My thoughts are my own. Healthy as a bull here." (That one has also been deleted.)
Anyway, none of this matters now, because we've all descended into hell via an express elevator and Sid Miller is reportedly being considered for Agriculture Secretary in Trump's cabinet. He's extremely excited about it and has been tweeting about nonstop. Or, sorry, whoever does his tweets is doing that. Not Sid Miller, but a professional.