A Girl Scout troop in Houston is credited with helping stop a couple of shoplifters a local grocery store.
According to KPRC Houston,the girls spotted the crime while selling cookies outside the store.
The troop set up a booth to sell their Girl Scout cookies at an HEB grocery store on Nelson Way in Katy, when members said they noticed a suspicious man wheeling a cart out the store doors. Mary Mathews, whose daughter is a troop member, said the man's cart had loose items and nothing was placed in HEB plastic or paper bags. So the group kept the man in its sights.
"He had pushed his cart back into the corner like he was hiding from us," said Mary Matthews. "He was stealing a lot of stuff," said Girl Scout Hailey Matthews.
The troop said the suspect then pushed the cart across the parking lot to his car. Mary Matthews said by that time they were convinced the man was stealing, so they told an HEB employee.
I automatically heard the A-Team theme music playing in my head as I read all of that.
HEB store service director Denise Villarreal said the shoplifter, aided by an accomplice was stealing about $2,000 worth of merchandise. Store officials contacted the police and BOOM the shoplifters were arrested.
G/O Media may get a commission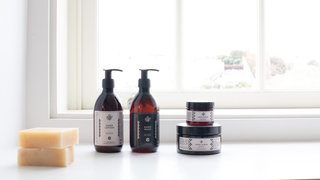 Exfoliate and Hydrate
The Handmade Soap Company
The girls used their reward money to buy a van and start an amateur detective agency, aided by their dog and an older stoner friend. As a way of saying thanks, store employees bought lots and lots of boxes of Girl Scout cookies, which is the ultimate win-win situation of all time.
A photo of the girls now hangs in the Houston store.
video platformvideo managementvideo solutionsvideo player
Screencap via KPRC.