Sarah, a 17-year-old Texas girl whose extended family says her parents forced her to attend a residential Christian boarding program focused on "gay conversion" therapy, has reportedly left the facility. Heartlight Ministries, which runs the program, issued a statement saying Sarah had departed and denying she'd ever been held against her will. They also denied providing any kind of treatment focused on sexual identity.

Sarah's last name has not been made public, to protect her privacy. Her aunt and cousins said in a GoFundMe petition that her parents forced her into the residential program after she attended the prom with her girlfriend. Sarah posted an update on social media in early May, stating that her parents had told her they were planning to attend prom "in case I decide to go even if though they forbid me to (because I'm going with my girlfriend, which they are against)." She also wrote that her mother told her they planned to "show up and make a scene in efforts to make me leave." She asked her friends to be ready to "form a human wall" during prom.
Heartlight runs a boarding school in East Texas that they characterize as a program for troubled teens. Here's a video they made for parents, to advertise the program:
The New Civil Rights Movement, a blog focused on LGBT news, confirmed that that the facility where Sarah is being held is run by Heartlight Ministries. Its founder Mark Gregston has written in online posts that he believes homosexuality is a choice, although he doesn't recommend parents "condemn" gay children. From the NCRM:

In another post titled "Addressing the Issue of Homosexuality," Gregston wrote that his goal "is not to enter into a debate or defend one viewpoint or the other," but to help parents engage with their children "on this topic in a loving, thoughtful and well-founded manner."
"Your teen needs to know they are safe and loved, regardless of their lifestyle choices or beliefs," Gregston wrote. "I understand homosexuality is a very sensitive issue for many people. But as Christian parents, we cannot be afraid to get involved in this ongoing discussion. Your teens are hearing from the culture about homosexuality. But what are they hearing from you?
The Austin-American Statesman spoke to Sarah's mother, who confirmed Sarah was sent away, but strongly denied it was for being gay: "It has nothing to do with her sexuality." She said Sarah would be "heartbroken" if she knew she was "being misrepresented in this way."
On Thursday, Heartlight posted a statement on their website obliquely addressing the Sarah situation and saying they do not provide "'treatment' services for sexual identity." They also said she is no longer at Heartlight but would be welcome back if she ever chose to return.

G/O Media may get a commission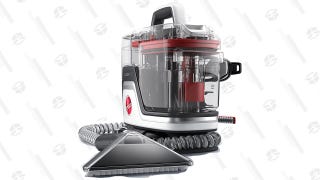 Save $10
Hoover CleanSlate Plus Carpet & Upholstery Cleaner
It's unclear under what circumstances Sarah left the facility or where she is now.
Update, 8:30 p.m.:
Elizabeth Findell, a reporter at the Austin-American Statesman, reports that Sarah is with her parents.
---
Screenshot via Heartlight