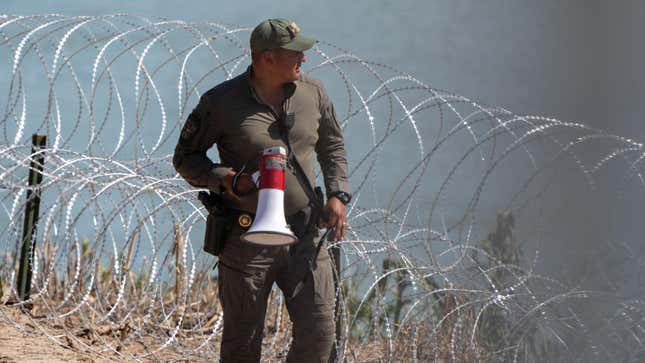 State police officers were patrolling the Eagle Pass area of Texas when they found a 19-year-old woman "in obvious pain" stuck in recently-placed wire, one of many so-called "traps" along the Texas-Mexico border placed to physically stop migrants from crossing. Eventually, after she was cut free from the wire, troopers realized she was having a miscarriage. This was one of four injurious incidents in a single day, according to a new email from a Texas Department of Public Safety (DPS) trooper to a sergeant that alleges repeated inhumane treatment of migrants in the state.

GOP Congressman Spent His Sunday Daring Biden to 'Come and Get' His Guns
The trooper's email said razor wire-wrapped barrels have been placed into the Rio Grande in areas with low visibility, leading to injuries like the woman's. The trooper's email was first reported by the Houston Chronicle. 
The woman was found, miscarrying and trapped, on June 30. On that same day, according to the email, the trooper said they treated a man who severely cut up his left leg while freeing his child who was stuck in the wire as well as a 15-year-old boy who broke his leg while trying to avoid the razor wire-covered barrels.
The trooper also claims they've been told not to give water to migrants. In South Texas. In the summer. "Due to the extreme heat, the order to not give people water needs to be immediately reversed as well," the trooper reportedly wrote. "I believe we have stepped over a line into the inhumane."
DPS spokesperson Travis Considine told the newspaper that no anti-water policy exists.
DPS Director Steven McCraw called for an audit in an email on Saturday, asking if risks can be minimized to people walking through a river to get to safety. "The purpose of the wire is to deter smuggling between the ports of entry and not to injure migrants," McCraw wrote. "The smugglers care not if the migrants are injured, but we do, and we must take all necessary measures to mitigate the risk to them including injuries from trying to cross over the concertina wire, drownings and dehydration."
The increase in physical barriers are a part of the Operation Lone Star push by Texas Gov. Greg Abbott (R). Razor wire and physical barriers are preventing law enforcement at the border from reaching people in distress, though. In a statement to the newspaper, Abbott's press secretary Andrew Mahaleris blamed this all on President Joe Biden. "President Biden has unleashed a chaos on the border that's unsustainable, and we have a constitutional duty to respond to this unprecedented crisis," Mahaleris said in a statement.
This is just the latest example of the cruelty of Abbott's anti-immigration policies. Last summer, when the entire country was feeling the adverse effects of a baby formula shortage, Abbott suggested that migrant children in federal custody should be starved in favor of Americans. (Texas was one the states hit hardest by the formula shortage.) In a joint statement with the National Border Patrol Council president, Abbott blamed President Joe Biden for keeping formula from "our most vulnerable, precious Texans" in May 2022. "While mothers and fathers stare at empty grocery store shelves in a panic, the Biden Administration is happy to provide baby formula to illegal immigrants coming across our southern border," the statement reads.
Abbott, who's supposedly "pro-life," essentially regards vulnerable human populations outside the United States as animals.