On Friday, September 16, Terence Crutcher, a community college student and father of four, was shot to death by Tulsa police officers in the middle of the street. Video footage from a police helicopter reveals Crutcher to be approaching his SUV unarmed, with arms raised. He did not have a weapon in his possession.
NBC News reports that at 7:36 p.m. (8:36 p.m. EST) authorities had been notified of an abandoned SUV on a road just north of Tulsa, Oklahoma. The footage—which is graphic—depicts Crutcher slowly approaching his vehicle with his arms raised. An officer follows him, pointing a gun at his back, and shortly thereafter three more cops arrive. Crutcher lowers his hands and walks to the driver's side door of his car. Then, he abruptly collapses, a blood stain spreading across his shirt as he lay prone on the ground.
A Tulsa Police Department dash-cam also captured the shooting, and it has been released to the public.
Chuck Jordan, Tulsa Police Chief, held a press conference on Monday where he referred to the footage as "disturbing."
"I would like to see us be a better city," he tells reporters.
Jordan has also confirmed the direct involvement of two officers: Tyler Turnbough tasered Crutcher, and Betty Shelby is responsible for shooting him. According to Jordan, Shelby told a dispatcher "that she [was] not having cooperation" from Crutcher. She then aimed and took fire. Jordan confirmed that Crutcher was unarmed when he was killed.
G/O Media may get a commission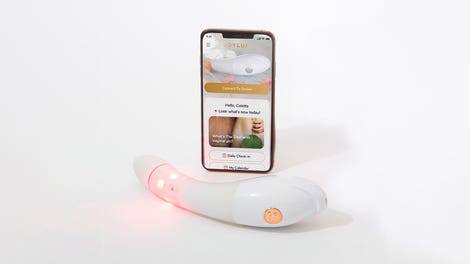 $50 Off
Joylux vFit Gold Device
"I will make this promise to you, we will achieve justice," Jordan told those in attendance. He has requested that the Justice Department conduct a review of the case. In the midst of the Tulsa police department's investigation, Shelby has been placed on administrative leave.
Anticipating the outcry, Jordan explicitly states, "Protests are not a problem," but asks that the demonstrations remain peaceful. Marq Lewis from activist group We the People has already delivered a statement in front of the Tulsa County Courthouse addressing Crutcher's death in the context of police brutality and systemic racism. He moreover puts pressure on Officer Shelby's background in emergency medical training, emphasizing that she had every ability to assist Crutcher, but did not.
"[Crutcher] was parked in the middle [of the road] broken down. And [the police department] didn't even have the gumption enough to assist help "We also found out that...Betty Shelby [is] a trained EMS basic...She did not render aid at all. She also has a trauma bag issued in her trunk. They let him lay there two plus minutes. She did not even render aid at all."
Lewis also draws attention to the "preconceived notions" betrayed by the officers observing the scene from the police helicopter. One remarks to the others, "Oh he looks like a bad dude."
"We as a people deserve better...This is not target practice, this is real life." Lewis declares. He calls for Shelby's arrest, in lieu of a "paid vacation," and is met with cheers and applause. He moreover argues that this case should not be handled from within — that the Tulsa justice system has already proven itself untrustworthy and that no community can "police itself."
Others vehemently agree with Lewis that the Tulsa police have demonstrated their inability to serve their community with fairness and compassion.
"They treated [Crutcher] like a criminal," asserted Benjamin Crump, one of the family's lawyers. "They treated him like a suspect. They did not treat him like somebody who needed help. Instead of giving him a hand, they gave him bullets."
Crutcher's family was first to see the footage of his death, and in the aftermath, they too have risen in protest. Crutcher's twin sister Tiffany, 40, condemns the racist assumptions of the officers who killed her brother, as well as those who witnessed it.

"You all want to know who that 'big bad dude' was?" she asks. "That 'big bad dude' was my twin brother. That 'big bad dude' was a father. That 'big bad dude' was a son. That 'big bad dude' was enrolled at Tulsa Community College, just wanting to make us proud. That 'big bad dude' loved God...We just celebrated our 40th birthday."
Crutcher, she says, had promised on their birthday that he would make the family proud and that this opportunity has been stolen from him.
"We're demanding today, immediately, that charges be pressed," Tiffany Crutcher announces before an audience. "It's time for everybody to demand that this stops and that justice is served. We just want justice. 'Cause I want for everyone to know that that 'big bad dude,' his life mattered."