In case you forgot, Kim Kardashian is still married to Kris Humphries, and he's still dragging his feet on granting her a divorce. But now Kim's lawyers are trying a new angle to speed up the proceedings—they claim that all this protracted angst is stressing out Kim's fetus and endangering its health. Humphries needs to hurry the fuck up.
Kim Kardashian's doctor thinks Kim's unborn baby may be at risk, because of the stress Kris Humphries is causing by dragging out their divorce ... TMZ has learned.

Sources familiar with the situation tell TMZ ... several days ago Kim called her doctor in the middle of the night to come to the house because she was having severe pains. The doctor examined her, but then warned he believed the problems were largely stress-related.

Sources say ... the only significant stress in her life right now is the divorce. And hours before her meeting Tuesday with her lawyer, disso-queen Laura Wasser, Kim's pains returned in full force.

The doctor warned Kim she needs to handle the stress or else there could be "long-term effects." The doctor did not elaborate, but we're told Kim is freaked out her baby may be at risk.
If I've learned anything from romantic comedies, it's that obviously the only reason for a divorce to drag on this long is because THEY ARE DESTINED TO GET BACK TOGETHER. So come on, America! Let's Freaky Friday those two crazy kids before it's too late! I'm practicing my Mid-Atlantic accent; you go smear honey on Kanye's foot. Okay? BREAK. [TMZ]
---
Chris Brown had a hearing regarding his 2009 assault charge for beating the shit out of Rihanna. Naturally, Rihanna accompanied him to court and blew kisses.
Brown was accompanied Wednesday afternoon by Rihanna, who blew him a kiss as he went into the courtroom. They also left together after the brief proceeding. (The two have reunited and started dating again, and Rihanna recently opened up about their relationship in an interview with Rolling Stone.)

Prosecutors are seeking to revoke Brown's probation because they say they could not find credible evidence he completed his community labor sentence.

Brown's attorney filed an opposition shortly before the hearing and Superior Court Judge James Brandlin set a new hearing date for April 5.
G/O Media may get a commission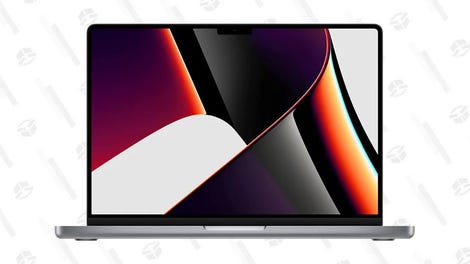 Save $300
2021 14" 1TB MacBook Pro
Okey dokey. Do your thing, kiddos. [CBS]
---
David Hasselhoff says he might not be included in the upcoming Baywatch movie:
"It's a very funny script, [but] I don't know if I'm in it or what I'm doing," Hasselhoff said at the Directors Guild of America Awards, adding, "It's going to be a spoof. It's hard to make Baywatch into something really real because even when we were doing it, we were making it real but we were having a good laugh at the same time."

It's not the same for the movie adaptation of his other hit series, Knight Rider. "That's different," Hasselhoff insisted. "Knight Rider is like real…It was 20 years ahead of its time. Now all the cars talk, all the cars drive themselves. They'll drive you home."
Yes, David. They...do. [E!]
---