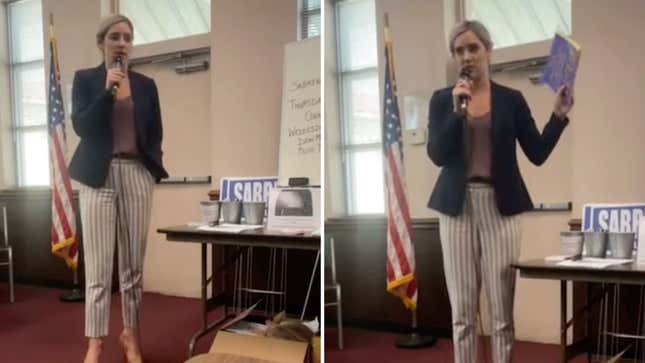 Coty Wamp, the district attorney for Hamilton County, Tennessee, whose last name is devastatingly one-vowel off from the slang word for being super disappointed, had her viral moment in the sun on Tuesday when a clip of her seemingly suggesting she'd prosecute librarians made the rounds on social media.
Taylor Lautner Doesn't Even Remember Saying 'Bella! Where the Hell Have You Been Loca?'
The video, reportedly recorded on May 22, shows the former public defender in a town hall-like setting. She holds a microphone, waves around a book, and searches for a woman named Pam. (She finds her!) Another woman, who's not filmed or named, asks a very long question about what can be done about "these" books that Moms for Liberty—a far-right "nonprofit" —has allegedly exposed as being vulgar, obscene, and containing all kinds of "awful stuff."
"A lot of the librarians are holding their own. A lot of them are holding their own and are like, 'we are the experts,' and 'we get to choose what goes in here.' and 'we should have choice' How do you feel about that?" the woman asks Wamp. "Do you feel like there should be some kind of prosecution for these librarians? Or how would we handle that situation?" (The "situation" appears to be that there are more and more books the right is deciding are inappropriate for children—books that discuss race, gender, LGBTQ+, sex education, and are often written by authors of those identities.)
Wamp, who was endorsed by two police unions, inexplicably calls the question (of whether librarians should be prosecuted) a "tough one," before saying, "There's going to come a time, in some of these books, where it crosses a criminal line. It's called contributing to the delinquency of a minor." On August 4, Wamp was elected DA for Tennessee's fourth most-populous county. That same night, her brother, Weston Wamp (I'm sorry, that's really his name), was elected mayor of the same county.
In an e-mail to Jezebel, Wamp said of the video:
I won't prosecute librarians or teachers for the books that are in our schools, and I do not say that I will in this video. But, per the example I use in the video, if an adult was standing on a street corner handing out pamphlets to young children that depict sexual acts, it would at the very least inappropriate and unacceptable. The book that I was looking at in this video, which was in at least one of our county elementary schools, described sex positions using photos that could potentially amount to child pornography. I would assume most agree that elementary age children do not need to learn about sexual positions while they are at school. That's absurd.
The book Wamp holds in the video is difficult to identify. (And she does use that example in the video.) In a follow-up e-mail, she told Jezebel, "You can tell from the video it wasn't my book. However, I've asked the individual who handed me the book if she has it." That individual, apparently, has yet to respond.
Ultimately, Wamp's response seems to come down to two things. One:
We're going to make sure our school board members are the right elected officials. The makeup of our books and our schools is going to change drastically if we've got the right people on the school board.
And two:
For me as a lawyer and somebody that's prosecuted these cases you also have to determine who at the end of the day is responsible for putting these books in these schools. Is it the librarian? Is it the school administrators? Is it the school board? Because if we're going to talk about who's on the hook, whose on the hook for this, who is on the hook? We have to talk about it.
In a different time, in a different universe, this clip may have merely enjoyed a 24-hour round of Twitter jokes and memes. It may have been written off as some fringe group, or outlier politician, or just a really, really good parody that everyone mistook for real.
Unfortunately, the clip adds to a growing and disturbing trend of right-wing extremists trying to ban or censor books, going after libraries, people who work in libraries, people who volunteer in libraries, people who fund libraries—really, anything library- or book-related. In June, a 30-year-old (also a librarian himself) in Maryland vandalized two local libraries, spray-painting the "groomer" across the entrance reportedly because they advertised "welcoming spaces" for LGBTQ+ customers. In March, the American Library Association's Office for Intellectual Freedom found that conservatives had challenged over 330 books from just September to November. In Idaho, Republican legislatures are literally defunding public libraries. The Proud Boys stormed a San Francisco library in June while it hosted a drag queen story hour. This also happened at a library in North Carolina. And Indiana.
That there's a clip of a recently elected official willing to "talk about" whether a person should be prosecuted for not removing a book that a parent or any private citizen doesn't like is just absolutely batshit.
In that moment, in front of the sheriff and Moms for Freedom or whatever, Wamp didn't shut down the question, defend librarians (I can't believe I'm even writing those words), or suggest in any way what she said in her e-mail to Jezebel—"I won't prosecute librarians or teachers for the books that are in our school." She tap-danced around saying anything definitive and emphasized that her brother, now the mayor, probably can't do too much about it. In Wamp's own words, "That's absurd."