In case you haven't heard (because you've been doing some kind of David Blaine situation where you live inside a sealed barrel for one year and eat your own pee) New Kids on the Block is teaming up with Boyz II Men and 98 Degrees for a 2013 stadium-sweeping super-tour called THE PACKAGE. Ahem. Now, if you know anything about me, boyz, men, degrees, Jordan Knights, motownphillies, and packages, obviously I will be attending this concert. Obviously.
But why? Isn't that a little...sad? Aren't you a little...old?
Bitchez. No. Hush. You know, back in 2000, when I was 18 years old, I attended 'N Sync's No Strings Attached tour at the Tacoma Dome. (P!nk was the open!ng act. It was amazing. Retract your claws, jealous lioness.) And the thing was, I was self-conscious then. I felt over-the-hill then. And I was 18! I didn't even have any weird skin tags yet! But part of aging is harnessing the power to do what makes you happy without giving a fuck—I am older and wiser now, and I will go see Digital Underground at a suburban casino on a Thursday if I want to. By myself! I don't give a shit! I'm 30!
But if you're still unconvinced—if you still think it's sad and pathetic and looptid for an adult woman to pay money to watch middle-aged pop stars pantomime their former glory for a stadium full of moms—here are some facts that might convince you.
1. Nostalgia is powerful. Boyz II Men was middle school for me and a lot of people I know. We associate these things with defining moments in our lives. Like, I'm sure a lot of people had their first kiss to "On Bended Knee," or...maybe...had their first kiss to "On Bended Knee" during Boyz II Men's fourth reunion tour. So some of us were a little behind. Whatever. It's not like I wanted to kiss any of those gross boys in middle school anyway. Sob.
G/O Media may get a commission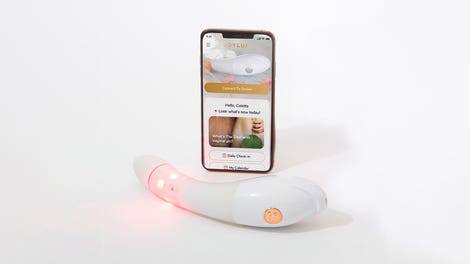 $50 Off
Joylux vFit Gold Device
2. Sometimes it feels good to do something pure and uncynical just because you want to. Sometimes it feels good to stop pretending to be cooler than you are. I was just chatting with a friend about this tour and she said, "In high school I felt like I was supposed to like Daria and stuff more than I liked 'N Sync, but I REALLY LIKED 'N SYNC." Pop music is fun (and it's also "real music," dum-dums, so shut uuuuuup).
3. If you buy the VIP ticket package, Aaron Carter will finger you in the handicapped bathroom stall.
4. You're going to make Jon shrug off his Slanket and face his crippling stage fright for nothing? The man is terrified. The least you could do is show up.
5. Jordan Knight, you guys. Come on. Don't be a fuck-up.
6. If we don't go and protest, then how are we ever going to get the message out that THIS TOUR IS BULLSHIT WITHOUT 'N SYNC? Look. At the very least, if you're in the mood to help, I'm going to need you to give JC Chasez's manager a call. If he's not home, here's what you do. Leave a message. You know the kind he likes.
7. Donnie Wahlberg says, "We're going to try and pull in as many special guests as we can, and do as many fun things as we can." Potential special guests include: Vanessa Minnillo, Tom Bergeron, MC Skat Kat, Howie Dorough dressed as a sexual vampire, Bell, Biv, NOT DEVOE*, the perm guy from Color Me Badd, Jordy the rapping French baby**, Mark Wahlberg's jacket from The Lovely Bones (on loan from Planet Hollywood Branson***), the boat from the Mark McGrath cruise, and Sir Anthony Hopkins.
8. Because collective public mourning is important. RIP, deep-voice guy from Boyz II Men. I mean deep-voice boy. II man.****
9. Investigative reporting. Because WTF has this guy been up to. (Monkey biz, surely.)
10. Ummmmm, maybe because Boyz II Men said they would literally make love to you!?!?!? What—am I just going to not collect on that shit? ORAL CONTRACT.***** BINDING ORAL CONTRACT.
In conclusion, I will save you a seat. And yes you may borrow my cry-towel to blot your pee-pants. You're welcome.
*DEVOE IS 86'D. HE KNOWS WHAT HE DID.
**Dur dur d'etre un bebe:



***Big thanks to general manager Steve Gerberman!
****Oh, wait, that guy didn't die? He just quit because he got scoliosis and wanted to develop a talk show with Paula Poundstone? OKEY DOKEY THEN.
*****DOUBLE MEANING.