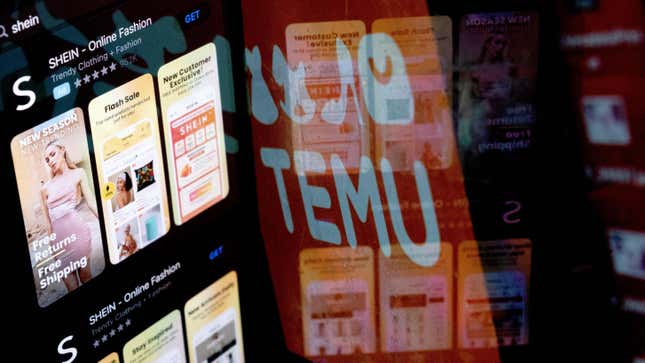 If you can imagine, the ethically dubious (and that's putting it kindly) world is filled with a hell of a lot more drama than just a poorly and stupidly executed influencer trip. The two worst girls you know, Shein and their new-to-the-scene nemesis, e-commerce retailer Temu, are in a legal battle and, unfortunately for those of us who like mess, there is no one fun to root for.
Don't Feel Bad if You Can't Achieve the 'Clean Girl Aesthetic'
Temu, which is only a year old, is an online marketplace similar to Amazon and Wish. It's incredibly, worryingly cheap, and its app is currently the most downloaded app from the Apple store in the U.S. On its website, you're prompted to spin a deal wheel, gamifying the already ghastly experience of purchasing fast fashion.
Shein, which you might be slightly more familiar with as it's been around since 2012, is another Chinese retailer that focuses on fast fashion and accessories. It, too, is distressingly inexpensive because both companies employ horrific labor practices.

Last week, Temu sued Shein in Massachusetts for allegedly pushing exclusivity agreements on U.S. manufacturers and suppliers. The suit claims that the "intent and effect of Shein's anticompetitive conduct is to exclude Temu so that Shein can charge higher prices to consumers while offering a smaller selection and lower quality than Shein would if it faced competition from Temu."
First of all, a true LOL at suing Shein (Shein! Of all companies!) so that it can't charge higher prices. The depravity knows no depths! These exclusivity agreements, de facto or otherwise, can be viewed as anticompetitive conduct, which is illegal in the U.S., which means Temu might have a leg to stand on in this fight.
This suit is just the latest in a string of lawsuits and complaints these companies have thrown at one another, a clash Temu is calling a "war" in their latest suit. In December, Shein alleged in a Chicago court that Temu was working with influencers to disparage them online. Again, you gotta laugh—people are doing that for free! Shein also sued the newcomer for copyright and trademark infringement. And earlier this week, Shein was hit with a RICO charge, something usually reserved for dangerous criminals.
There is a perverse satisfaction I get when two chaotically messy people are pulled, like magnets, towards one another. It feels inevitable. Each time it happens it's an utter delight to spectate the discord from afar. But when the two messy parties are both companies engaged in forced labor (allegedly), there is simply no fun to be had at all. In fact, it's all very bleak.