We've all been that person stuck sitting behind someone in a hat. It's always awkward. Do I shoulder-tap the person and ask them to take it off? Is that rude? Is it rude to be wearing a hat?
Will they think I'm taking offense, and will they then take offense at my offense? Am I being rude? What if I'm not rude, but I come off like I am? What if they say no? That's kind of rude, isn't it? But then you really have no recourse. It's the kind of social exchange in which, no matter who is in the right or to what extent the right is even knowable, only pyrrhic victories are possible — like sending a drink back at a bar. Which is why last Friday, I said nothing to Mr. Grey Stocking Cap at Film Forum, despite the fact that depending on how he sat, I could at times make out only three quarters of High And Low. It wasn't worth it to risk engaging in our accelerated culture of offense.
Which is perhaps why my own beliefs about good manners/well-developed sense of guilt would prevent me from sending a Tweet out to my 13,984 followers about someone's hat and its alleged obscuration of my view at a private event. If I was, in fact, unwilling to have a respectful word to said someone about it. Grazia wasn't the only publication to notice 13-year-old style blogger Tavi Gevinson had neglected to remove her large pink Stephen Jones hair bow after sitting in the front row at Dior's couture show today: Fashion TV's Jeanne Beker also tweeted that she thought the head covering was "outrageous."
G/O Media may get a commission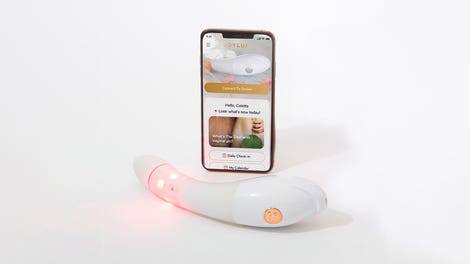 $50 Off
Joylux vFit Gold Device
Is it too much to think that in our brave new hypermediated world, we might restrict ourselves to only saying things about people on the Internet that we would actually say to them in real life? Naïve, I know. But it seems odd to micro-blog about someone while she is sitting within whispering distance of you. But it's couture week, and clearly we need a better outbreak of bitchiness than Giorgio Armani's abortive letter-writing campaign.
Far easier, really, to sit and stew and type and, yes, TwitPic one's offense.
Caption: "Dior through Tavi's pesky hat." Now, half of fashion's Twittering classes and a bunch of randoms are all talking about a stupid hair bow, worn by a young woman who probably never intended to be the cause of any consternation. By nightfall, I expect an animated gif, a wannabe-viral dramatic YouTube re-enactment, and a short-lived meme wherein Tavi's Hat (which is what everyone seems to be calling it, despite the fact that it's clearly a hair bow, a hair bow you can see right through, Grazia) is pasted onto various calamitous scenes. (To start that process off, and do my part for Internet-based entertainment everywhere, here's a frontal view!) Oh, look, a diagram, to keep things in perspective:
Sigh. Fashion really can be just like middle school.
Grazia's Twitter Feed [Official Site]
Jeanne Beker's Twitter Feed [Official Site]