Tekashi 6ix9ine was sentenced in a Manhattan federal court room on Wednesday. Judge Paul Engelmayer said the 23-year-old rapper would serve 24 months for his time in the Nine Trey Gansta Bloods putting "lives put at risk because you had been dissed."
Tekashi will get credit for 13 months time served, but will still have to complete 300 hours of community service and is required to pay a fine of $35,000.
The rapper, whose government name is Daniel Hernandez, had more than one surprise at the sentencing. His estranged father was in the court room; Page Six reported that he hasn't seen his father since Tekashi was 9 years old. "Is this a f–king joke, [with] everything that I go through?" Tekashi said while shaking, according to the tabloid.
Tekashi's father, who is also named Daniel Hernandez, tried to speak on behalf of his son, but Engelmayer wasn't having it. "It's way too late to show up and speak on his behalf. You squandered that right many years ago," Engelmayer said.
During sentencing, Tekashi begged for mercy. Which makes sense since he gave "extraordinary" help to the fed against former Bloods. "The people against whom Mr. Herandez testified were leaders of Nine Trey," Assistant U.S. Attorney Michael Longyear told Page Six. Takeshi "will forever have to look over his shoulder." [Page Six]
G/O Media may get a commission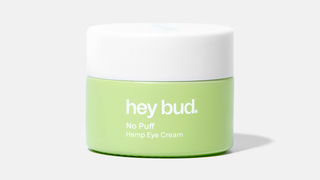 15% off
Hey Bud - No Puff Hemp Eye Cream
---
It turns out Ruth Wilson's departure from The Affair has even more twists and turns than the show! I know nothing about the show other than the name, so don't correct me in the comments!
Now, the competing storylines involved Wilson, show runner Sarah Treem, executive producer/director Jeffrey Reiner, Lena Dunham, Jenni Konner, and Showtime. It was previously suggested that she mostly left over pay disparity.
Apparently Wilson was unhappy with the amount of nudity and thought it was more for shock value, instead of creative reasons, and one source says it started at the top. An anonymous production source said: "Over and over again, I witnessed Sarah Treem try to cajole actors to get naked even if they were uncomfortable or not contractually obligated to. It's things you would think would be coming out of a man's mouth from the 1950s. The environment was very toxic."
Treem denied the accusation, adding that she's also a feminist. "I would never say those things to an actor," Treem said. "That's not who I am. I am not a manipulative person."
Honestly, just go to the link to find out how Lena Dunham fits into the picture. [Page Six]
---