Welcome to Teen Week!
Amid a sea of sensible men's polos and brightly hued khaki shorts, a huge crowd of mostly teenage fans crushed against each other for a glimpse of bright red hair. On a Thursday night in late June, they'd trekked to an unlikely hang-out spot—the Nautica shop in the men's section of Macy's—for one very important reason: to prostrate themselves at the feet of 19-year-old "bubblegum trap" god Lil Yachty, self-appointed "king of the teens."

Lil Yachty (real name Miles McCollum), whose debut album Teenage Emotions was released in May, was recently named Nautica's Creative Designer for 2017, a fitting endeavor for a fashion hound who pronounced himself in the New York Times as "more than an artist. I'm a brand." His signature red beaded hair, bright clothing, and mod white sunglasses are a look Yachty has constructed in order to become a marketable, IRL cartoon character, though buyers of his first capsule collection might find themselves simply wearing a giant unadorned logo. "You see him and you know," he once told the Guardian. "SpongeBob wears a button-up shirt with a tie and brown pants."
A harshly-lit department store in midtown may not be the ideal place to spend a perfect June evening, but fans happily turned out, staring patiently into space and various handheld devices in a line that snaked around most of the men's section. As Yachty finally strode in, his trademark braids reconfigured into a halo, the crowd released an extended howl and a wave of iPhones reared up into the air, jostling for the best view.
When we asked what they liked about him, a lot of the teenagers in attendance mentioned Yachty's positivity, a few even nodding to his drug-free lifestyle. Yachty's fans (who, upon his arrival, looked happier than anyone has likely ever looked in the Nautica store at Macy's in Herald Square) seemed to view him as a beacon of wholesome, confident placidity—a convenient antidote, maybe, to the bullshit world they're about to inherit.
G/O Media may get a commission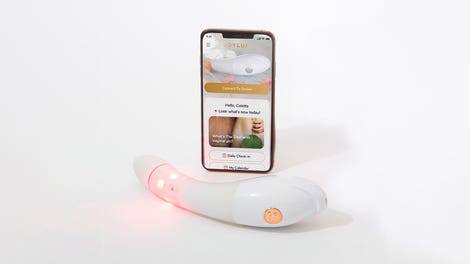 $50 Off
Joylux vFit Gold Device
Here's what they told us.

Kristin, 13: The reason I really like him is because he has his own ideas. He doesn't care what people think about him, he does this all for the teenagers. And he's a teenager himself so I can relate to him and all the teens can relate to him.

It's hard to relate to rappers now because [with] most of them, all they talk about is women or drugs or stuff like that. I can't relate to that! But with him, he talks about his life and being a teen.
Mike, 16: Being 19, 20 years old, I really feel like I can connect to a lot of what he's saying. A lot of rappers are, like, 30 years old and you can't really get their message. If he gets older it will be kind of weird, because he's said that he never wants to get old.

Bryson, 19: It's kind of crazy that he's the same age as me and he is just grindin. Last year I heard about him on Soundcloud but he was like low-level. Now he's making millions! It's crazy that he just elevated like that after one year. I know he dropped out of college because he was bullied and stuff, and just to overcome that adversity and follow your dreams is pretty cool.

He has a lot of critics, you know people don't like that mumble rap or whatever, but he doesn't care about that because he's making money! When I get up there I'm gonna be like, yo, what's up, I've been with you since day one.
Jasmine, 16: Lil Boat is everything. He's perfect, his grills are perfect, his hair is an icon—it's iconic—and his album is awesome too, both of them. My favorite song is "Minnesota," I listen to that every morning when I go to school because it makes me super happy.

I like that it's uplifting, like, it's rap but it's very happy, so there's no problems, you can vibe. [He] posted on Instagram that he was gonna be here, so I'm pretty sure that's why everyone's here.
Antoine, 19: I like him because he's unique and more importantly he's not afraid to be judged. He knows that if you are your own person and your life is great you don't have to listen to what other people say.
Mackenzie, 19: I got my hair done specifically because he inspires me so much. He's young and he understands the struggle of youth, you know? I'm not [going to try to meet him], only because I have somewhere to be soon, but I would love to. I've seen him in concert before, but just seeing him I'm so happy. I would tell him that he inspires me, and I think you should know who you inspire.

Have you seen his last album cover? He has so many different types of people on the cover, he has gay people and like, that's the youth, and that's what's amazing about him because a lot of rappers won't do that. They won't represent everyone, and he does that.

Scott, 16: I like the upbeat style of it. I've never been to something like this but I'm a big fan of his music, so Joe hit me up and was like, Yo he's gonna be in New York City, so I was like, all right, yeah.
Joe, 17: I like that he's the creative director of Nautica, I'm more into his fashion sense and what he's done for Nautica. I like concerts and stuff like this, rap and hip hop, and it was in the city, so I was just like, why not just stop by?
Athena, 20: He's very silly and very honest, and I love trap, and he seems really true to himself. I love Lil Yachty because his style of trap music is very approachable and musical, so it's very easy to listen to and makes you want to make this kind of music as well.
I'm gonna talk to him about how he was a case study in one of my college classes this past semester, about branding and we talked about his deal with Nautica. There was like that whole thing that was like, Lil Yachty is part of the whole generation of hip hop artists who haven't listened to Tupac... I think that's really funny, I don't know, he's young and his style is new and there's no way to escape being part of the nasty capitalist machine so if he needs to brand [himself] to be a success, he's not the only one doing it.
Lane, 16: When I saw his Joe Budden interview, it was just old-heads hating on what's coming up. They want him to change because that's what they're used to. It's just how it is. But I like that he's just so positive. He's one of those rappers you can turn on in the car and everyone knows every single word.

Meverette, 16: He talked about how two years ago he was just working at McDonald's and didn't want to go to high school and then he switched his game up and became a rapper. It just shows how you can come from nothing to having everything in a quick minute.
Skylar, 18: I really like how positive he is, it's like he knows he's a role model. I think even if he stops being a teenager he will still speak to teens because it just works for him. He hasn't been in any scandals or anything even though he has caused some controversies with some people. I was watching a video where he was talking about how he got his mom a house and a car and how his friends were homeless and he got them all homes.
I was just inspired by it and I like what he represents. A lot of people don't think he's a real artist but I think he is, and it's just because he's a teen. There are a few rappers out now like him and I like it because it is making a difference and people are starting to be more positive.
Ambria, 19: First time I heard "Broccoli" on the radio with my friends going to this thing called Orange Crush in Georgia, it was lit! So, we loved it. Then "iSpy," he's featured on it, and I loved it. His style is so quirky but it's lit. It's 2017, he can do whatever.

Qaiyoom, 19: He's original! He speaks his mind, he doesn't care what people say. As a teenager, it's kind of hard to like speak your mind because of all the influences and stuff. Like peer pressure, especially in the city. If you do something that's not the general thing people do, people will say that you're weird. That could really affect some people. I can see in him that he's the same and that's what makes him a great artist.
Lauren, 18: I like Lil Yachty because he allows people to be weird and he's okay with that. I feel like in this day and age people really want to hide who they actually are but he allows fans to be like, fuck it, this is who I am.