Teen Vogue sent an intern blogger to "work out" with Gossip Girl's Taylor Momsen, and the staged pictures are delightfully awkward!
Here they are confused by an elliptical machine. Taylor, who is 15, says: "My thing about going to the gym is that I leave my bracelets on, and I put on my makeup the way I would do it in real life, and I wear cute clothes, because if I don't feel good when I leave the house, then I'm not motivated to do it. I need to like how I look while I'm doing it." Healthy!
Here, a trainer shows Taylor and intern Julie Schott how to use a public toilet or something.


But! Does Taylor, better known as Little J, even really exercise? She tells Schott:
"Well, I used to dance. That's how I started out in fitness: I was in a dance company. When I moved to New York for the show, I stopped dancing and I hit a point where I was, like, I feel so lazy! So I started going to the gym a bit, and I like it. I don't exactly have a specific thing I'm doing yet, but I'm still trying to figure it out, working with a trainer and walking. My most routine workout would be just walking around New York. I try to walk more than I take trains or cabs, but it's hard in the cold."
G/O Media may get a commission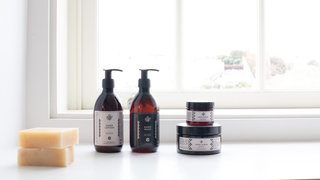 Exfoliate and Hydrate
The Handmade Soap Company
She readily admits she has no idea what she's doing at the gym and the only gets exercise when she walks. Which is sometimes.
Fake fitness is so awesome!
Hey, what's that patch on Taylor's hip? Is the teen dream is on birth control? Trying to kick her cigarette habit?


Working Out with Gossip Girl's Taylor Momsen (intro), Working Out with Gossip Girl's Taylor Momsen (slideshow) [Teen Vogue]