Danielle Corcione—a freelance journalist who writes for Teen Vogue, ReWire, and other outlets—had their Twitter account permanently suspended on Thursday after the writer posted a tweet about TERFs. (Corcione uses they/them pronouns.) Emails, which Corcione provided to Jezebel, show that Twitter suspended Corcione for "violating rules against posting violent threats."
The tweet in question, which can be seen in screenshots circulating on Twitter reads:
"If any TERFs like or retweet this, I'm shoving my foot up your ass."
According to the emails Twitter sent Corcione, the above hyperbole amounts to a specific threat of violence against a group of people. But that singular tweet leaves out the crucial context: Corcione was preparing to handle a potential barrage of hate speech from individuals ready to mock trans people—ironically, perhaps without repercussions from Twitter. Twitter's decision to permanently suspend Corcione's account raises a bigger question about what kind of speech is protected on social media platforms, and which groups of people are considered worthy of protection from threats.
TERFs—trans-exclusionary radical feminists who do not believe that the rights of trans people should be included in discussions of women's rights—seem to qualify as one such protected group, per Twitter's policies. This protection mirrors growing insistence from conservative circles that "TERF" is a slur—a talking point that is creeping into mainstream discourse. Last year, the Guardian ran an opinion column in which the author refers to TERF as a "as a bullying tool" that has "already succeeded in repressing speech." Last week, in the guidelines for an essay series on trans issues, The Economist referred to "TERF" as a slur "which may have started as a descriptive term but is now used to try to silence a vast swathe of opinions on trans issues." (The series includes an essay warning that trans rights should not be won at the expense of women's "fragile gains.")
Speaking over the phone, Corcione told Jezebel on Friday that the tweet that got them suspended was not an out-of-the-blue threat, but a response to an earlier tweet that was meant as a joke. "The original tweet was actually kind of funny," Corcione said. "It was part of a meme. I [tweeted]: 'My pronouns are Yee-haw.'" (The tweet, which Jezebel verified, is no longer accessible because Corcione's account is suspended.)
G/O Media may get a commission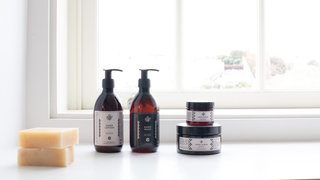 Exfoliate and Hydrate
The Handmade Soap Company
Corcione said when they saw the number of retweets on the first tweet, they figured it would go viral, and thought: "I don't want any fucking TERFs. You know, I didn't want them to mock trans people because it's a meme that was obviously created by a trans person just to be goofy."
In anticipation of harassment, Corcione then posted the tweet in question: "If any TERFs like or retweet this, I'm shoving my foot up your ass." Corcione's decision to tweet to pre-empt anti-trans trolls speaks to the nearly ever-present threat of abuse that trans and non-binary people face when speaking to large audiences on Twitter.
"This is absolutely political," said Corcione.
Corcione first received noticed their account was suspended on Monday, June 25, and appealed to have it reinstated; Corcione told Jezebel that, as a journalist, they need Twitter to report on stories. More than a week later, on Thursday, July 5, Corcione received an email from Twitter stating that their account was still suspended and would not be restored.
Corcione had been covering demonstrations against ICE in Philadelphia since this Monday, July 2. On Wednesday, they wrote a post on Facebook asking followers to apply pressure to Twitter to bring back their account, and included the hashtag #OccupyICEPHL. Here's the post in full:
My Twitter account is STILL SUSPENDED going on nine days. If you know any folks who have had their account suspended in a similar way as mine was, please let me know. In the meantime, please tag my handle (@decorcione) as well as @jack and @twittersupport and TWEET that this independent journalist can't tweet and report live on the platform, despite being on the ground at#OccupyICEPHL. (Post is public, please share.)
Corcione believes it's "no coincidence" that their appeal was rejected after they asked people to share a post with a hashtag created to protest the federal government. "It shows who's in power, who's in control in Silicon Valley, and it's also indicative of our political climate," said Corcione. "We're living in fascism, and people aren't afraid to repress people's voices of influence, especially journalists."
Jezebel has reached out to Twitter for comment and will update this post if we hear back.
Update (July 10, 10:57 a.m.): On Friday, after the initial publication of this post, Danielle Corcione's Twitter account was restored, according to emails Corcione shared with Jezebel. Shortly after, they tweeted "I'M A BAD BITCH YOU CAN'T BAN ME." Twitter has not responded to Jezebel for comment.
Update (July 11, 10:41 a.m.): Last night, Danielle Corcione received an email from Twitter, informing them that they have been locked out of their Twitter account, over the same tweet that got them suspended in the first place. When Corcione logs in to Twitter now, they are instructed to delete the tweet in question in order to regain full access to their account. (Currently, they cannot tweet, retweet, follow people, or like tweets.)
Corcione tells Jezebel they are not planning to delete their tweet, given that Twitter already investigated it once and restored their account after finding it not in violation of the platform's rules. They also added: "People who get banned and suspended for telling TERFs or nazis to fuck off, they may not necessarily be journalists but it doesn't mean that their voices aren't important to the cultural conversation."
We have reached out to Twitter again for comment.
Update (July 11, 11:22 a.m.): Twitter declined to comment on the status of Corcione's Twitter account.
Update (July 11, 2:09 p.m.):