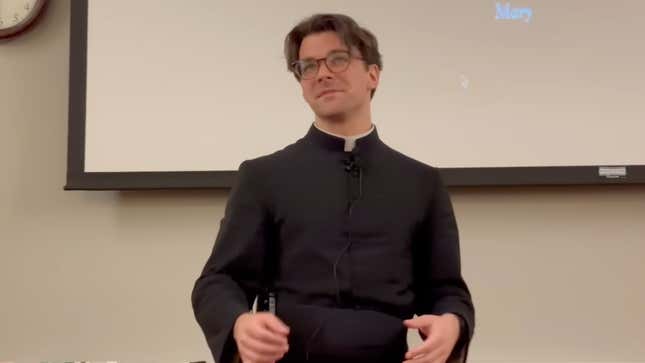 An exorcism-loving Alabama priest has fled to Italy with a recent high school graduate whose family is desperately trying to get the teen to return home, according to reports by local news outlet Lagniappe Mobile.

Alex Crow, 30, was a priest who listened to confessions at the McGill-Toolen High School in Mobile, also visiting classes and chaperoning trips with high school students. This summer, he traveled to Europe with a just-turned 18-year-old, whose name is being withheld in case she was a victim of juvenile crime. At first, Mobile authorities said they did not believe the relationship was sexual in nature, but they've since released two letters Crow wrote that suggest otherwise, including a love letter to the teen for Valentine's Day. In that note, he professed his love for her, claimed they're married, and said he tried to steal her some flowers from a Virgin Mary statue, "but there were too many people around."
"Before we fell in love," the priest wrote, "I promised to always care for you and protect you, like a father. I still look at you and see a child, but in the best way imaginable. You are mine - no one else's, and I will always be a father to you until I die."
In another letter released by the sheriff's office, Crow wrote to someone named "Joshua" saying the Virgin Mary and Jesus told him and the teen to go to Europe and not return from the trip. "We know how this looks, but we are doing what we are told," Crow wrote. "Do not worry about defending us. This is hard for her too, but she knows she will always be safe if she does Jesus' Will."
Lagniappe Mobile reports that former students said Crow often screamed about demons and tried to perform exorcisms on and in front of students, including on a trip to Guatemala in 2022. Parents have complained about Crow to the Archdiocese of Mobile, and County Sheriff Paul Burch said they told Crow to stay away from another young woman in the past. Parents at the school were worried he was "brainwashing" their children, performing exorcisms on them and providing alcohol for them at bonfires. One parent said their child has refused to come home after Crow convinced them their household was controlled by demons.
But it doesn't seem like much was done about the priest, as he was still able to go with a group of students to Italy in June. It was only after Crow and the 18-year-old fled to Europe that the Archdiocese decided he exhibited behavior "unbecoming of a priest" and that he "may no longer exercise ministry as a priest."
Meanwhile, the young woman's family flew to Italy to try to convince her to come back with them, but Crow wouldn't let them be in a room alone with her. She refused to leave. "She says she's happy where she is right now, [and doesn't] want to come back," Burch told Lagniappe Mobile. "She's in love." The sheriff added that he has "no doubt" Crow has been grooming the girl for "some time."
The teen's family had initially planned on holding a press conference but canceled it last minute out of concern for her safety. They say they are "extremely fearful" for their daughter and believe numerous other girls may be involved in the situation. Lagniappe Mobile reports that subpoenas have been issued and charges may be forthcoming, as local authorities work out whether Crow committed any crimes.