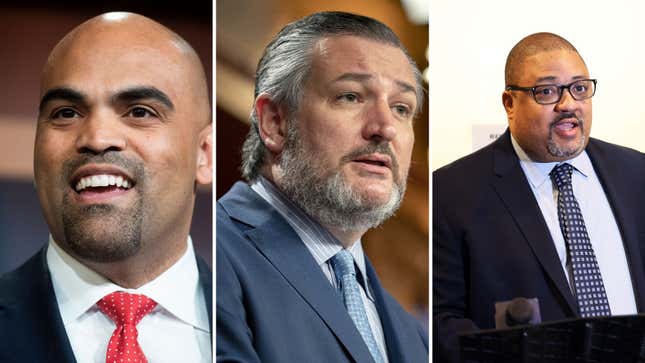 "This is Ted Cruz," the Texas senator (read: his campaign) wrote in a message to supporters on Saturday. "I have breaking news: Far-left Democrat Colin Allred just announced he's running against me in 2024. Allred doesn't represent Texas values - not even close."

Ted Cruz Asks Ketanji Brown Jackson If Babies Are Racist
The text included a photo of a Black man who is clearly not Congressman Allred (D-Texas); it's Manhattan District Attorney Alvin Bragg, who's pursuing criminal charges against former President Donald Trump.
Allred, a former NFL player who worked in the Obama administration and has represented a district in suburban Dallas since he unseated a Republican in 2018, announced earlier this week that he's challenging Cruz in 2024. "We don't have to be embarrassed by our senator. We can get a new one," Allred said in his announcement video.
Three days later, Cruz—who famously asked Justice Ketanji Brown Jackson during her Supreme Court confirmation hearings if babies are racist (while chugging diet Dr. Peppers—embarrassed himself once again by apparently not being able to tell the difference between two prominent Black men who don't look remotely similar to each other. Allred doesn't even wear glasses.
The congressman hilariously responded to a screenshot of the text on Saturday, "Hi [waving emoji], that's not me."
Of course, it's really hard to unseat a Republican senator in the reliably red state of Texas. Beto O'Rourke famously tried and failed, despite shattering fundraising records thanks to donations pouring in from out of state.
But Allred, according to CNN, is also a "prolific fundraiser," has already flipped a red district blue—and Texans famously love football players. Plus, ole Ted's campaign skills seem to be slipping. If this is how the race is going just three days in, we may be in for an extremely interesting ride.