The video for "Style," Taylor Swift's third single off 1989, premiered this morning on Good Morning America after much fanfare. It's...okay?
The track, which was purportedly written about Harry Styles—get it?—has a shimmering, rousing energy that seems undersold by the video, which is mostly Taylor and her love interest (played by Dominic Sherwood) looking down, and then looking up.
In an October 2014 interview with Ryan Seacrest, Swift called the song her "secret favorite":
"I love it when the sound of the song matches up with the feeling that inspired it. In this song, it just reminds me of driving in the middle of the night. I don't know. I loved comparing these timeless visuals with a feeling that never goes out of style."
Without fully being like, yes, this is about a member of One Direction, Tay explained the message of the song:
The two people are trying to forget each other and they've both been out with other people and they've both tried to forget the other. So, it's like, 'All right, I heard you went off with her,' and well, I've done that, too, so that's what that line means...My previous albums have also been sort of like, 'I was right, you were wrong, you did this, it made me feel like this'—a righteous sense of right and wrong in a relationship. What happens when you grow up is you realize the rules in a relationship are very blurred and that it gets very complicated very quickly, and there's not always a case of who was right and who was wrong."
G/O Media may get a commission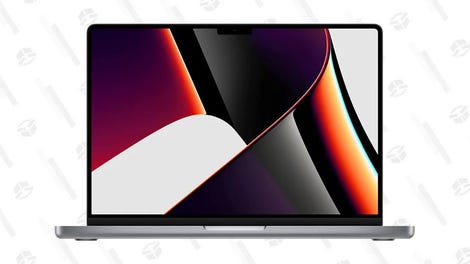 Save $300
2021 14" 1TB MacBook Pro
And right off the bat, we can tell that Taylor does indeed have boyz on the brain:
And this, in what E! has decided is a very subtle "blink-and-you'll-miss-it" moment, is a paper airplane necklace that apparently alludes to her relationship with La Styles:
A VERITABLE FOREST OF EMOTION INSIDE SWIFTY:
Who doesn't sometimes see Taylor Swift in their curtains, though:
Lots of dramatic closed-eye upward head tilts, like so:
What could all of these broken mirror references possibly be alluding to? But I actually really really DK what we are supposed to be getting out of this one, besides the fact that T is very proud of her lipstick game:
"Look at us, babe. I'm sexy/sad, you're blurry, this is perfect."
There are some truly dreamy visuals in this video, but it has to be said that a lot of the cool overlay effects are very reminiscent of a BenZel & Jessie Ware music video from a few years back:
Why, hello! Who knew Taylor was into bowl cuts? This is a nightmare:
A THUNDERSTORM OF SEXUALITY IN MY BODY RN:
AND IT'S RAINING IN MY HEART:
Men are so dramatic sometimes, ladies!
FUCK IT, I'M PUTTING EYEBALLS ON MY SLEEVES, BYEEE: