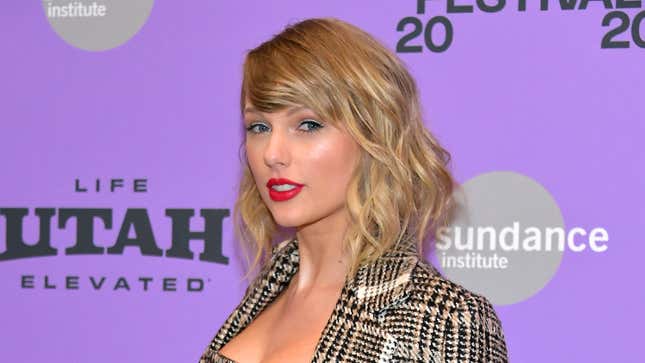 The Grammys have not had a particularly strong lead up to their 62nd ceremony, which will take place tomorrow at the Staples Center in Los Angeles. Last week news broke that Deborah Dugan, the new president and CEO of the Recording Academy, was removed from her position following allegations of misconduct filed by another employee. Then, Dugan filed her own complaint, this time with the Equal Employment Opportunity Commission, alleging voting irregularities, sexual harassment, and that former Grammy chief Neil Portnow raped an artist, among other things.

Now, apparently in response to the complaints Dugan has raised, Taylor Swift, who was supposedly set to give a surprise performance, has chosen to remove herself from the upcoming ceremony. Swift, who has in recent years become increasingly more vocal about both politics and sexism within the music industry and society at large (a decision she appears to cover at length in the upcoming documentary 'Miss Americana'), has yet to make a statement publicly about the situation. Although, if she does decide to make one, it's sure to debut on her Tumblr right alongside her other missives. Thank god they've cleared out the porn to make space for these proclamations.
While it was never officially confirmed that Swift would be performing alongside other scheduled artists like Lizzo, Billie Eilish, and Ariana Grande (who had her own beef with the Grammys last year), there was space in the lineup for a TBD performer which many took to stand for Taylor Better Do this.
Should she have taken to the Grammys stage, Swift would have likely been performing her song 'The Man,' which would have surely been a scathing critique of the proverbial Man behind the scenes at the Recording Academy. Of course, having not been a scheduled performance for the evening, it remains to be seen whether or not her absence from show will have any major impact on the telecast, but at the very least it's got us talking about it now, and about the many problems that are institutionalized behind the scenes at the Grammys.
The Grammys have always sucked, to put it plainly. They have gone out of their way to overlook many deserving artists and have historically shown a bias against huge swaths of entertainers, including and primarily many artists of color. Swift herself appears to have benefited from that bias in the past. Perhaps, considering her recent attempts at being more vocal regarding societal injustice, this is her trying to continue to step in the right direction. I'll be keeping my eyes on Tumblr just in case. [Variety]
---
Vicki Gunvalson invented the Real Housewives of Orange County, according to Vicki Gunvalson. She is, indisputably, the OG of the OC and casts a shadow so vast that ostensibly all other housewives who have followed her have no choice but to exist in her shade. However, as with all great rulers who have established kingdoms and then deigned themselves the unusurpable overlord, Gunvalson's time of reckoning has come.
Following in the footsteps of Sauron and Palpatine before her, Gunvalson has as of yesterday, announced that she will be be leaving the Orange County franchise for good. Of course, she makes no mention of the fact that apparently she wasn't asked back to the show, creating as she so often has, her own reality, this time one in which the decision to leave was of her own volition.
"I will always be the OG of the OC, but it's time to say goodbye to The Real Housewives of Orange County," Gunvalson wrote on her Instagram, I assume while imagining herself as Eva Perón belting out her own very personal rendition of "Don't Cry for Me Argentina."
Her chaotic presence will absolutely be missed on the franchise, which this past season demoted her from "housewife" to "friend" on the show, a situation that has proven to be the death knell for many a former bravolebrity. Should you find yourself misty-eyed for our former OG, fear not, she's guaranteed us she has new projects lined up. She has new realms to conquer and new kingdoms to establish, and I personally look forward to the next time my ears are blessed by the unmistakeable Gunvalson shriek. [Us Weekly]
---