When Taylor Swift released 1989, she had a very specific request for her label: none of this is meant for country radio. This was her big pop record, proof that she could make the full transition out of country, and she needed to focus on the pop charts.
Swift seems to want the same thing for her new album Reputation. She has ditched the '80s schtick of 1989 in favor for some Rihanna LARPing and EDM, trying to make a sexy, bad-girl record far different than what we're used to hearing from her. Except, as writer Kyle "Trigger" Coroneos at Saving Country Music points out, Swift has sent the album's one outlier song, the piano ballad "New Year's Day" to country radio (where it debuted at #57.) Not only have Swift and her label Big Machine sent it to country radio, they're actively campaigning for the song. Coroneos writes:
In this week's edition of Country Aircheck—one of country radio's most important weekly circulars—Taylor Swift is all over the place. Along with a full page ad pushing "New Year's Day" to country's radio professionals, four additional pages have huge Taylor Swift images embossing the left margin. Taylor Swift and Big Machine aren't just making a play for country radio, they want to dominate it with "New Year's Day."
This is important because it means that Swift, in some small way, wants to keep one foot in country. She's proven that she can be a bonafide pop star with 1989 and Reputation (which has "sold" incredibly well, though if you take into account all the sneaky loopholes all artists use these days to gain album sales numbers, I have no idea what an album sale even means anymore.) You'd think, then, that maybe she's moved on from country radio.
It's worth noting that "New Year's Day" does not sound like a country song, but in my opinion neither did "All Too Well" and "We Are Never Ever Getting Back Together" except for the fake Southern accents, though those both charted on country radio. But this is kind of what Swift, a thin-voiced girl from the Pennsylvania suburbs, has always done. She made country music and thus she was a country gal. So she can release a song, add a little acoustic guitar, call it country, and her legacy still sticks. I don't think this exercise is going to dramatically change the country charts, I think the success of this move is specific to her.
G/O Media may get a commission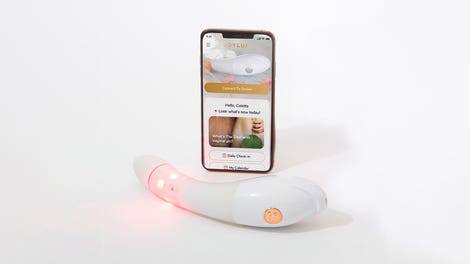 $50 Off
Joylux vFit Gold Device
But why even send a song to country radio, especially when she's positioning Reputation as the death of the old Taylor? Swift can do it just because she can, of course. But considering her interest in excessively dominating the charts this might be a power move, a way to show she can still basically have it both ways. The country song she wrote for Little Big Town, "A Better Man," won song of the year earlier this month at the Country Music Awards, after all. And to take it one step further, it might mean that her next album will be a return to country music, and this is a very small way to see if she can still rule that space. Because even if her massively successful pop career falls apart, or she gets tired of the grind and scrutiny, Swift knows she can always go home.