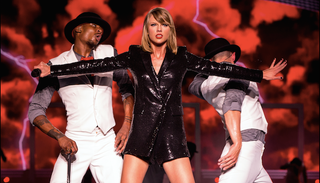 Finally, the list-obsessed among us can breathe a collective sigh of relief: Taylor Swift has finally landed on Forbes' "Most Powerful Women" list.
She joins besties Beyoncé, Oprah and Angelina Jolie, among 96 other moving-and-shaking ladies in their respective fields of entertainment, politics and business—or as the publication refers to it, "money, media momentum, spheres of influence and impact."
No word on whether beau Calvin Harris is planning a surprise party to celebrate Swifty's latest feat, but if not, no doubt a member from her so-called "girl gang" will be there with flying colors, a Funfetti cake, and some variation of pink lip gloss. Yay!
Image via Getty