It was a cat lady trifecta: Taylor Swift, talking about her cats, on National Cat Day, dead center in The View's kaffeeklatsch of trust. No stranger to controversy, Taylor Swift was bombarded with hard-hitting questions from the hosts such as "You have two cats. Are they nice?" Thanks for that, Whoopi Goldberg.
Taylor Swift is, of course, making the rounds on television to promote Taylor Swift's new album, 1989, which is an amalgam of many different nostalgic '80s synth sounds as filtered through the present pop era of Haim, Lorde and, though Taylor Swift would likely never admit it, the Lord God Rihanna (via Sia via Terius Nash). (Partial "Wonderland" lyrics: "eh eh eh eh.")
The View hosts were verklempt, as was the audience (cut to young women in tears), and each question was lobbed admiringly, even from Rosie Perez, lifelong New Yorker. "How do you not know how awesome you are?" Nicole Wallace asked, wondering, gawking. That's what we call j'urinalism, folks!
Taylor Swift spoke about "Welcome To New York," by the way, and it seems she has been registering some of the negative press around the song, because she ingeniously swooped in and nipped it in the bud, telling The View something "I don't think I've told anybody this before, but": Taylor Swift is donating the proceeds from "Welcome to New York," the single, to New York City Public Schools. Which is awesome.
Taylor Swift also administered some Pema Chodron-level advice about haters ("You have to let go of that and get rid of it"), and discussed her best friends, like Lena Dunham, and how Lena Dunham is the type of person who will see you and say "HI BABYEEEEEEEEE" even if you have never met her. Of course, the conversation topic turned to feminism because Lena Dunham was Taylor Swift's entry point to feminism, and Taylor Swift thinks that over the past year feminism is having a resurgence. Rosie Perez brought it up first, pointing out the double-standard that Taylor Swift faces when writing about her love life, while men never get the same flack that she does, which is true.
G/O Media may get a commission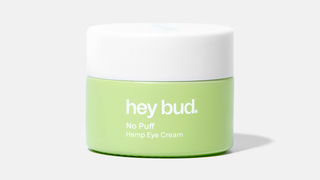 15% off
Hey Bud - No Puff Hemp Eye Cream
"I completely agree with you," nods Taylor Swift. "It's interesting how feminism has come up in conversation so much more in the last year. It's amazing to see, because I was never really taught the definition of the word feminism when I was a little girl, and I wish I had been. It just wasn't really culturally much of a conversation with the masses, like where I was living in my small town. So it's amazing to see people like Emma Watson and people who are providing... I love that there's an easy definition."
Whoopi feels that and went into a super self-empowered moment. "Nobody completes you. You are already complete." The crowd cheers. My cold, cold heart and feelings of cold, cold disdain for Taylor Swift's whole estilo cannot deny that this can only be a good thing. If some little girl from Wyomissing, Pennsylvania (or Cheyenne, Wyoming) gets into like, The SCUM Manifesto via that song in the Target commercials, how can I be mad? Entry points are entry points. Dear young Taylor Swift fan: if you are reading this, go read Valerie Solanas. And Janet Mock. And Ana Castillo. And bell hooks. And this and this and this. GO IN!
Watch the full interview at ABC.