Yesterday, we brought you one of the most ill-advised ads for a tanning salon ever (as though tanning could get any more gauche), a tacky, racist mess that featured a white lady in a "Sexy Indian" Halloween costume along with copy that read "The Indians brought more than just 'CORN' to the first Thanksgiving... they brought SEXY 'COLOR'!" The ad's been taken down and the chain has offered a point-missing fauxpology. But the real beauty is in one Club Sun employee's epic Facebook freakout defense of her employer.
First, the apology, courtesy of David Arnett, Club Sun's marketing director, which was posted on the company's Facebook page yesterday before MYSTERIOUSLY VANISHING.
In response to the recent post from Jezebel.com, the ad I created showing a Native American and Pilgrim in costume was in no way intended to be offensive or racist. I sincerely apologize if it offended anyone. I myself am Native American and I am very proud of my heritage and skin tone. The thought process behind the ad was simply a play on my own sexy 'color'. Again, I apologize for any offense and misunderstanding.
Oy. "If" I offended anyone.
But leading the charge on Team Not Getting It was one very special Club Sun employee who works in sales in one of the chain's Panama City locations. Following the publication of the post, she went on an unhinged Facebook rampage to defend her employer, using an almost-comical array of derailing tactics. The posts have been taken down, but an eagle-eyed tipster sent us screenshots today. And now, here we are with what basically amounts to a proposal for a book called How To Argue Like An Asshole.
G/O Media may get a commission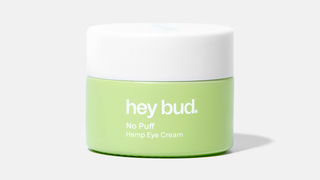 15% off
Hey Bud - No Puff Hemp Eye Cream
1. "You're being too sensitive!"/ "Don't you have more important things to worry about?"
2. REVERSE RACISM!/ Again with the sensitivity.
3. OMG Get Over It/ Reverse Racism again
Yeah, Native Americans. Get yourself over some genocide and ongoing mistreatment.
4. He said he's sorry okay?!?!
5. WHY AREN'T YOU ACCEPTING HIS APOLOGY ON MY TERMS! WHY CAN'T YOU OVERSENSITIVE CUNTS ACCEPT A FUCKING APOLOGY?!
6. We are actually honoring you because ... Santa... Claus? I'm lost. You lost me, unhinged tanning lady.
And that, friends, is how you don't defend yourself against charges of cultural appropriation.
For more statements that are virtually identical to Unhinged Tanning Employee's, get into an argument with a Redskins fan who thinks they should keep the name. Try it!