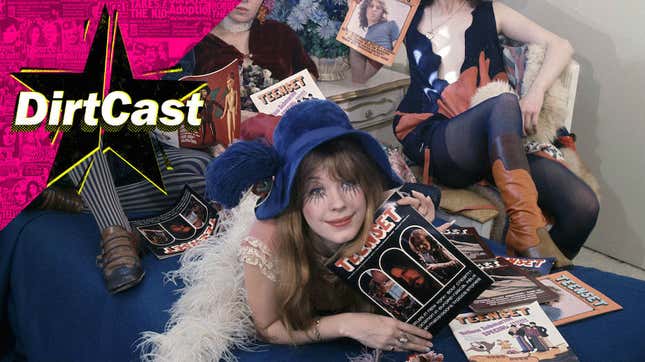 To many, the term "groupie" is disparaging or derogatory, but to Pamela Des Barres—known as the most famous groupie in the world—it's a badge of honor.
Since the '60s, Des Barres—whose seminal memoir, I'm with the Band: Confessions of a Groupie, celebrates its 30th anniversary this year—has kept detailed journals, making her (unintentionally, at first) an incredibly knowledgeable rock historian, with endless firsthand accounts of what it was like to tour with Led Zeppelin, spend wild nights at the Whisky a Go Go on the Sunset Strip, hang with plaster casters (the women artists who immortalized rock stars' penises in plaster), and occasionally have sex with Mick Jagger. She's also spent the past several decades collecting stories from her fellow groupies, allowing a group of women oft projected upon (she would know—she's the rumored inspiration behind Penny Lane in Almost Famous) to tell their own stories, many of which she told in her VH1 documentary, Let's Spend the Night Together.
After being put in contact with DirtCast through our former guest Anne Raso, Des Barres was gracious enough to call us from LA to talk about the women-only writing workshops that she regularly hosts, her new writing guide Let It Bleed: How to Write a Rockin' Memoir, and—of course—tell us some bonkers stories from the '70s heyday of rock 'n' roll.
She also made a point to stress the importance of allowing groupies (and women in general) to tell their own stories. Asked in particular about the controversy following David Bowie's death in which a story written by one-time groupie Lori "Lightning" Mattix, detailing her experience of losing her virginity to Bowie when he was an adult and she was 14, was recirculated.
"You listened to her interview, right, in my documentary? [Author's note: We had.] She was very happy about that experience. She has no regrets about it," Des Barres said. "And none of the girls that I know—though there probably are some—have any regrets about those experiences."
Of course, both those with regrets and those without have a right to tell their stories the way they want to tell them and we have an obligation to believe them—while also juggling context, the (inexcusable) predatory behavior of men, and our own ethical boundaries. Des Barres's detailed and honest work and willingness to talk about it makes this both more clear and, somehow, more complicated.
DirtCast can be found on Apple Podcasts, Stitcher, Spotify, Google Play, and iHeart Media. Follow Pamela Des Barres on Twitter and Instagram. Check out her website here.
Our show is produced by Levi Sharpe with editorial oversight by Kate Dries. Mandana Mofidi is our Executive Director of Audio. Our theme music is by Stuart Wood. This episode was mixed by Jamie Collazzo. Listen to our politics podcast, Big Time Dicks, here.