It's hot. It's so god-almighty hot that it's tempting to follow the example of these women who at some point in September 1961 decided to beat the heat by dragging a Central Park bench right into an available pond.
Ana Gasteyer Satirizes the Girl Boss in 'American Auto'
Was this against the rules? The spirit, if not the letter, it seems likely. Does the water in New York City's public spaces notoriously double as rat bidets at the very least? Yes. But there comes a time when it's so hot that you don't care what sort of unfathomably gross things might be lurking in a tempting body of available water. (That time for many of us will very possibly be tomorrow afternoon!)
That woman on the left is reading Advise and Consent, a Pulitzer Prize-winning 1959 political novel about a pitched confirmation battle in the Senate. The Wall Street Journal explains: "The president has chosen a man named Robert Leffingwell, who is both controversial and popular, touching off a confirmation battle filled with lying, sex, blackmail and a suicide that looks a lot like murder." (Turns out he was once a college Communist.) Several sequels would follow, according to a New York Times piece written for the book's fiftieth anniversary, but they were received less and less willingly:
Even reviewers impressed by the plotting and insider­liness of "Advise and Consent" had doubts about its literary merits, and the author's prose got no subtler as the sequels piled up and his ideological fever spiked. By the time he published "Preserve and Protect" in 1968, one critic wondered when Drury would "cease and desist."
G/O Media may get a commission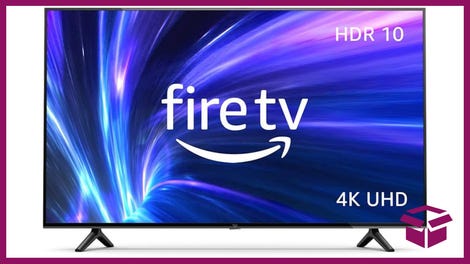 42% Off
Amazon Fire TV 50" 4K Smart TV
Not sure what the woman in the middle is reading; their companion on the right has admitted defeat and is reading the insides of her eyelids, or maybe daydreaming of Antarctica.