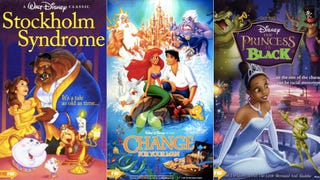 The FW created nine posters that call bullshit on Disney's original titles, and deliver the Truth. Filed under "Wish I would've thought of that first!" and also, "More, please!"
In today's Times, there's a piece on Lauren Luke, a self-styled makeup maven, Internet sensation and fledgling cosmetics entrepreneur. And the analysis of some of the quoted experts is interesting; they don't seem able to comprehend liking someone "average":
The world may never know. Nostalgia: the last refuge of a scoundrel.
You know those Glade ads, where women buy the cheap candles and plug-ins and pretend they're expensive, then have their dishonesty exposed and mocked? Well, I thought of that while reading this piece on AdAge about how to market to women during the recession. Because apparently someone thinks the way to do it is by…
Of all the women's 'service' magazines, Marie Claire seems the most well-meaning. Unlike its competitors, the magazine has none of those Jekyll & Hyde-type "Love Your Body... But Lose 10 Lbs. Fast" sorts of stories. No ridiculous tips on incorporating foodstuffs into sex play. And it has a global perspective often…
Those Sisley cocaine-snorting ads? Not exactly real. Which makes us sad because we really wanted to see something realistic in a fashion magazine. [Sassybella]

Snaps to Sisley! While some might be, oh, offended by the apparel company's new ad featuring models doing lines (Of coke? A white dress? Coke on a white dress?) we say, more power to 'em! After all: Models + Cocaine = Big Money. Just look at Kate Moss!