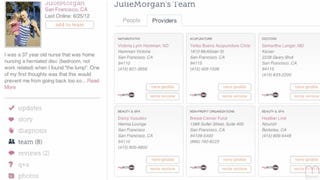 A brand new social network is hoping to help women who have recently been diagnosed with breast cancer connect with other women who either have or have survived the disease. MyBreastCancerTeam, whose co-founder, Mary Ray, brought us the networking site MyAutismTeam especially for parents with children somewhere on the…
Katherine Losse's purportedly daming Facebook tell-all Boy Kings: A Journey Into the Heart of the Social Network grabbed the Wall Street Journal's attention a few weeks ago for its recounting of Facebook's pre-Sheryl Sandberg days, when buxom comic book heroines adorned its office walls and a few lascivious engineers…
A Hasidic all-girls school in Brooklyn this week ordered its students to either delete their Facebook accounts and pay $100 fine for being so openly immodest on the internet, or gtfo, for the very important reason, explained administrator Benzion Stock, "Girls are getting killed on the internet," just like in the…
For those who bemoan the intrusiveness of social media into every nook and cranny of our modern lives, take cover: Facebook may one day develop an app that lets you know not just who among your checkered roster of sexual partners may be secreting an STI from boxspring to boxspring, but who in your social circle may be…
If Disney's plan works, kids may soon be friending each other on a Facebook-like site as soon as they can write. TechCrunch reports the company just bought the site Togetherville, a social network for kids under 10, for an undisclosed sum.
A survey by YourTango.com found 59 percent of people stay Facebook friends with their exes and 74 percent Google them. So don't think of breakups as the end, but rather the beginning of the relationship's stalking phase.
The Social Network premiered at the New York Film Festival last night, and the celebrities in attendance were (mostly) dressed to impress, sticking to sleek suits and simple dresses.
Annoyed by the misleadingly creepy music used in the The Social Network trailer, the kids at Urlesque responded by creating their own video. The resulting clip illustrates the significance of a soundtrack almost as well as There Will Be Blood.
The trailer for The Social Network, the film about Facebook's founding, features menacing lines like, "We don't know what it can be... We don't know what it will be!" culminating in what Videogum aptly dubs the "most dramatic magic-eye poster ever." [Videogum]