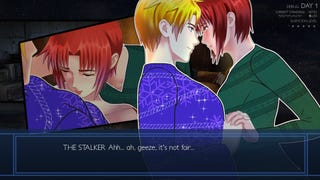 Ladykiller in a Bind is full of sex. Naughty, dirty sex. It's a fun visual novel that let me explore BDSM and consent. For those of you feeling a little timid, the game's new update adds a few features to keep things PG-13.

If Overwatch fan culture is anything to go by, there's only one thing people want to see Overwatch characters do more than fight: date. That's where fan games come in. But with lawyers hiding in bushes and trees, waiting to spring their DMCA traps, making video game characters kiss ain't easy.

This is gameplay footage of Barbie's Dreamhouse Party, recorded by Rock, Paper, Shotgun. It terrified me. I showed it to my three year-old daughter. She stared blankly at it for a minute before softly walking away.
There is no great suffrage movement to credit for finally enabling players of the world's most popular first-person shooter to kill each other as female soldiers. For better or worse, that's not how these things tend to happen in video games. Certainly not this time.
In September, 2011, the folks behind online role-playing game Star Wars: The Old Republic promised to add same-sex romance after the game had launched.
• An English cat named Frankie has been accused of stealing 35 soft toys from neighboring houses over the past year. • Vets in Boston have performed an unusual surgery in which they reattached a 4-year-old cat's face following a brutal accident involving a car's fan belt. • A new US law states that freight ships must …
Michael Grove, the shadow education secretary and a prominent Conservative in England, gave a speech today at a meeting organized by the think tank IPPR condemning lad mags (like Nuts, Zoo, and Maxim) for promoting "instant-hit hedonism" and presenting women as "permanently, lasciviously, uncomplicatedly available."…