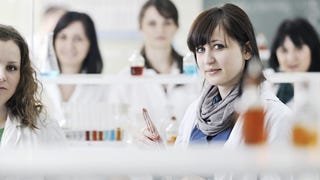 Of all the various schemes to encourage more young women to pursue careers in STEM fields, a new six-week online mentoring program that aims to connect young women with female mentors already established in STEM fields seems especially promising.
Think of 30 Rock, first season, third episode. Jack the-Great-and-Powerful Donaghy is setting up Liz No-I-Don't-Need-Any-of-Your-Help-Especially-Not-with-Dating-which-I-Don't-Have-Time-for-because-I'm-All-About-My-Career-Thanks-a-Lot Lemon with his friend from out of town. Jack catches her in the hall and tells her…
Dina Vierny began posing for the sculptor Aristide Maillol as a teenager in order to earn pocket money.