How are the youth of America doing this week? Oh, fine — some of them are learning useful outdoor activities, such as canoeing and lanyard-making, at summer camp; others are loafing about at the mall; and others still are threatening to burn down an online retailer because it sells a shirt with the last names of Taylor Swift's rumored ex-boyfriends on it. Kids these days.
Ana Gasteyer Satirizes the Girl Boss in 'American Auto'
The online retailer in question, Bad Kids Clothing, is an EDM themed t-shirt line (in case you were worried that this story wasn't going to get any lamer). The T-Swift-ex-bf shirt was a custom job, created for a friend, and posted on the company's Instagram. Almost immediately, a hoard of enraged teens began to barrage the photo with heartfelt entreaties, such as:
YOU GUYS ARE SUCH BITCHES FOR PUTTING UP THAT SHIRT!!! US SWIFTIES FUCKING HATE YOU!!! YOU CALL HER A SLUT? HA! YOUR CLOTHES ARE THE MOST SLUTTY THINGS I HAVE EVER SEEN!!… DATING 7 GUYS DOESN'T MAKE YOU A SLUT! A SLUT IS SOMEONE WHO WEARS SKANKY CLOTHES AND HAS SEX WITH A HUNDRED GUYS!!! TAKE DOWN THE FUCKING SHIRT NOW UNLESS YOU WANT MORE HATE!!!
The "Swifties" are very correct in stating that dating 7 guys does not make you a slut, and they did have the right to feel insulted by the fact that the company seems to be offhandedly shaming a young woman for having too many romantic partners — but these salient point got kind of lost amidst the sea of exclamation points and blind rage.
Deciding to make the best of the publicity, Bad Kids Clothing put the shirt into mass production — so, the furious T-Swift fans kind of reverse-Inceptioned the brand with their bad conflict negotiation skills. This is why it's very important to learn how to communicate your feelings clearly, children of the world.
G/O Media may get a commission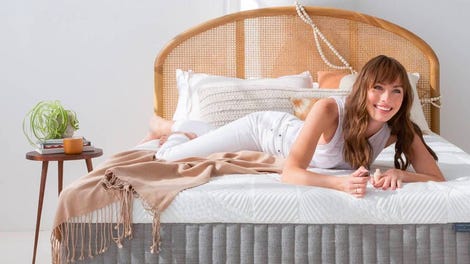 Sleep Sale
Sleep Sale - Brentwood Home
Then, of course, came the truly furious hate mail (70+ emails, 20+ calls, 12 texts, countless tweets) and the death threats, which you can read here if you're so inclined.
On the bright side, this Internet scuffle did yield my favorite angry email sign-off of all time:
Badbye!
Notice I didn't say goodbye.
That's because I hate you.

Sent from my iPhone
"Taylor Swift Fans Hurl Death Threats At Another Clothing Company" [Fashionista]
Images via Bad Kids Clothing and Getty.