The country of Sweden is promoting a new case study that will place a handful of people with stressful jobs in remote glass cabins surrounded by "Swedish nature." I don't want to be dramatic or point fingers or whatever, but I'm a little bit upset that I wasn't included here. Maybe I don't have the most stressful job in the entire world, but I just think it would have been nice if they had thought of me, you know?
Once in the cabins, participants will spend 72 hours participating in "off-the-grid activities, such as swimming, fishing and cooking"—in other words, things humans used to do a lot—as researchers measure their wellbeing. How lovely for them.
Participants include a German police officer, a taxi driver from Paris, a British TV host, an event coordinator, and a travel journalist who seems like he already has a pretty cool life and maybe somebody else could take his spot, no offense.
Here's why Sweden is doing this, from the FAQ section of the website:
Year after year, Sweden takes first place in international rankings of countries with the best life quality. Swedish nature, which is clean, vast and easy to take part in, is a part of the secret. The Swedes' unique relationship with nature is an important part of their well-being, which is why Sweden has created 'The 72 Hour Cabin'. With the initiative, Sweden wants to acquaint visitors with the special bond that Swedes have with their natural environment, and invite the world to experience it themselves.
G/O Media may get a commission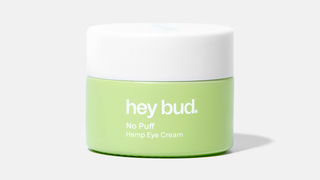 15% off
Hey Bud - No Puff Hemp Eye Cream
That's so crazy, because I have always specifically wanted to become acquainted with the special bond Swedes have with their natural environment. Sweden, if you're listening: if someone drops out or anything, I'd love to go chill out in one of your weird pastoral voyeur cabins. I promise to bolster your study results by achieving ultimate relaxation. Thanks so much!