After the numerous sexual assault allegations made against Republican presidential candidate Donald Trump, the Susan G. Komen Foundation is being urged to severe their ties with his club Mar-a-Lago.

The Komen Foundation, a non-profit dedicated to funding research into breast cancer, has an event scheduled at Trump's Palm Beach club in January. Stat News reports that Komen has held its annual event "Perfect Pink Party" at Mar-a-Lago since 2011. The National Organization for Women is urging Komen, as well as a handful of other women's health non-profits, to sever their relationship with Trump-owned clubs and hotels. "I would strongly urge that the organizations reschedule their events," NOW president Terry O'Neill told Stat. "I would also say that at the very least, ensure Donald Trump personally would not be around when the event takes place because women are at risk."
The Associated Press notes that two of sexual assaults alleged against Trump took place at Mar-a-Lago: Mindy McGillivary alleges that Trump groped her during a 2003 photo shoot at the resort and People writer Natasha Stoynoff alleges that Trump grabbed and kissed her while interviewing him at the location in 2005.
Komen has said that it will make a final decision about them using Mar-a-Lago at the end of the month. Other groups focused on women's health, however, have said that they will continue to host their events at Mar-a-Lago, arguing that the location is apolitical, even if Trump financially benefits from their use of the space. Stat reports:
Fern Fodiman, board president of Hearing the Ovarian Cancer Whisper, called Trump's words "despicable" but said that the organization's choice of Mar-a-Lago "really has nothing to do with Donald Trump as a politician. It's strictly a venue for our event."
Henderson said that she wouldn't choose to have her wedding at Mar-a-Lago, but as for the luncheon: "Ultimately, it is a fundraiser, and that's our main goal."
G/O Media may get a commission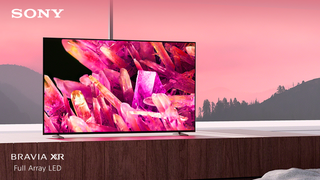 $400 off
Sony 55 Inch 4K Ultra HD TV X90K Series
The director of the Women's Health Network disagrees with the "it's just a fundraiser" defense and told Stat that sexual assault is a women's health issue.
The Komen Foundation has a long and thorny history with politics. In 2012, it cut ties with Planned Parenthood, offering some thinly-veiled excuses that reflected the organization's then anti-choice leanings. Nancy Brinker, Founder and former Chair of Global Strategy for the Komen Foundation, is a long-time Republican supporter. Brinker endorsed Trump earlier this year and, in an interview with the conservative outlet Newsmax, where she also hosts a show, Brinker said that Trump was "thoughtful about things," and urged fellow Republicans to rally behind the candidate.
Update: Brinker took a "leave of absence" from the Komen board in June. She is currently an unpaid volunteer with the organization.