A federal judge has ruled that Hollister is in violation of the Americans with Disabilities Act. Hollister's stores are supposed to resemble Southern California surf shacks. Most Hollister stores in the U.S. feature entrances that are built to look like front porches. Front porches with stairs. And that's where the problem lies.
Julie Farrar, a Denver woman and a wheelchair user, tried to enter a Colorado Hollister store and found she couldn't. Hollister claims all of the stores with steps have side entrances (cleverly disguised as shuttered windows) that are wheelchair accessible — but disability advocates say those entrances are often blocked from the inside with tables of merchandise. In any case, going through a side door doesn't sound like equal treatment to Farrar:
"I would never go through a side door. It's not something I would do. I'm philosophically opposed to that," says Farrar, 45, who was born without a sacrum — the triangular bone at the bottom of the spine — and who started using a wheelchair when she was 12. She said that in school using a wheelchair meant she was effectively segregated from other students. She remembers her family being asked to leave restaurants, movie theaters and shops because she "was considered a fire and safety hazard."
Farrar, along with several other Colorado plaintiffs, sued Hollister and its parent company Abercrombie & Fitch in 2009. In 2011, a Colorado judge ruled that Hollister's two stores in the state were both in violation of the A.D.A. One of those stores has since closed, and two new wheelchair-accessible Hollisters have opened. The other store that was the subject of the lawsuit is still open, and still has its front "porch" with its illegal steps.
In 2012, the lawsuit became a class action targeting 248 Hollister stores nationwide that have the same front steps. In March, a judge ruled that Hollister was in violation of the law and ordered the company to work with disability activists take steps to bring its store entrances into compliance. Nearly three months later, it hasn't done that. Farrar says the lawsuit was about making a statement:
"These stores are designed to look shuttered and hidden, as if to keep out the riffraff," she said. "I want people to know that, as a society, we have evolved over the past 25 years. Despite the fact that [Hollister]market[s] beauty and athleticism as a stereotype, the reality is they still need the rest of us people who are short, chubby and maybe with acne and wheelchairs."
G/O Media may get a commission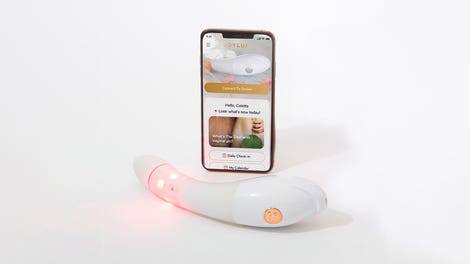 $50 Off
Joylux vFit Gold Device
That message seems like a hard sell with a company that has already gotten in trouble for moving a store employee with a visible disability off the sales floor and into the stock room, and whose C.E.O. has spoken candidly about how his brands don't make clothes in larger sizes for teenage girls because they only want to market to "cool" kids.
Denver Judge: Abercrombie Brand Hollister Violating Disabilities Act [Colorado Independent]