Karma isn't real. Proof: Diddy created Danity Kane (never forget) and now he is being rewarded. He and Kate Upton have apparently been dating since late March, when the 20-year-old joined him in the VIP room of a club in Miami so they could smash their mouths together.
Says a creepy onlooker who I always picture as the actor Dylan Baker for some reason: "They were kissing, they weren't hiding it." A few days later, the two had a romantic dinner at the Bowery Hotel. Upton recently broke up with Detroit Tigers pitcher Justin Verlander and Diddy was seen house-hunting with Cassie in January. Maybe don't buy the house, you guys? [Ace Showbiz, NYDN]
---
My-Size Scientology Ken Tom Cruise spoke out about the end of TomKat.
"I didn't expect it," he confesses of the end of his five-year marriage to the star, with whom he shares daughter Suri, 6.

Afterward, he says, he "had an unbelievable amount of time to think about it" as he threw himself into his work. The takeaway from all that thinking? "Life is a challenge."
G/O Media may get a commission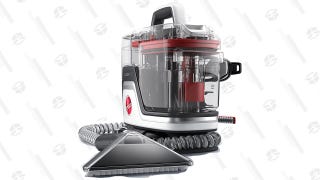 Save $10
Hoover CleanSlate Plus Carpet & Upholstery Cleaner
I couldn't agree more. When the daily grind gets me down, I buoy my spirits by having Xenu sing "Take Me Out To The Ball Game" into my butthole. [People]
---
As the late-night set undergoes its sea change at over NBC, Alec Baldwin has joined talks with the network for a possible talk-show gig. He'd be replacing Carson Daly on the show that's currently "Last Call" but would undergo a moniker change. "The Rude, Thoughtless Pig Hour" has a ring to it!
This also marks the first rich, straight white male host in the lineup, which is new and interesting. [NYT]
---
Perhaps inspired by Brad Paisley Sweater's paen to ignorance-slash-the Greastest Song of Our Time "Accidental Racist," John Mayer and his self-proclaimed "David Duke cock" have changed their ways and migrated over to Rihanna.
A source/Dylan Baker, as always, manages to make it sound immensely unsexy. "She was really shocked when she heard from John. Even though he's been chasing for years, she thought it was far too soon after his split with Katy [Perry]. [...] Rihanna said his texts were very sexy and flirty, with him suggesting they'd have hours of fun together. He was very complimentary about her Twitter photos." HOURS of fun. [Entertainmentwise]
---
If you disapprove of new mom's Amber Rose continued enjoyment of (in the words of Freehold 7th grader David Sedacca circa 2002) "smoking up some dankness," she has some words for you.
---