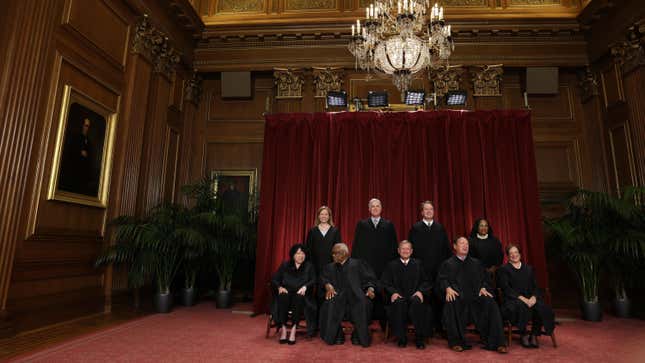 In a Thursday ruling that virtually no one saw coming, the Supreme Court has decided not to take another sledgehammer to voting rights.
What Questions are Senators Asking Ketanji Brown Jackson About Abortion?
Chief Justice John Roberts and Justice Brett Kavanaugh joined the three Democratic-appointed Justices in a 5-4 ruling to say that Congressional maps in Alabama were racially gerrymandered and diluted the votes of Black residents. (That means Justices Clarence Thomas, Samuel Alito, Neil Gorsuch, and Amy Coney Barrett all dissented—the four horsemen of the apocalypse.)
The majority ordered that those maps be redrawn to create an additional majority-Black district; the state currently has only one such district out of seven, even though 27 percent of residents are Black. Still, the same court allowed this map to be used in the 2022 midterms, an election where Democrats lost the House by a razor-thin margin. (Kavanaugh sided with conservatives in that case and has since apparently changed his tune.)
Hours after the decision, Cook Political Report made five rating changes in House races, all in the direction of Democrats. They include two seats in Alabama, plus districts in Louisiana and North Carolina, which have similar lawsuits in the works.
The case, Allen v. Milligan, was an attack on what remains of the Voting Rights Act—Section 2, which prohibits voting rules that discriminate on the basis of race. Roberts himself has led this attack on the VRA: He authored the notorious 2013 decision in Shelby County v. Holder. In that case, the court struck a preclearance regime for voting restrictions in states that had discriminated against minority voters. (Justice Ruth Bader Ginsburg famously wrote in dissent that "[t]hrowing out preclearance when it has worked and is continuing to work to stop discriminatory changes is like throwing away your umbrella in a rainstorm because you are not getting wet."). Literally hours after that 2013 ruling, states including Alabama moved to pass further restrictions like voter ID laws.
Incredible amounts of damage have already been done to voting rights, and this decision only preserves the status quo—so, no, the court doesn't deserve that much credit for this move, although it is surprising. Certainly, most reporters, including myself, expected the case to go the other way and had to scramble to change our prewrites.
If I had to take a guess, I'd say the court—and Justice Roberts in particular—is seeing all the terrible polls and negative headlines and knows it still has several other big decisions to drop, including ones on anti-discrimination laws for LGBTQ people, affirmative action, and student loan relief. It also already released an opinion gutting the Clean Water Act. This feels like a damage control offering for when pundits and reporters try to summarize the entire term; those people might be tempted to say the court isn't totally off the rails. And they'd be wrong—it's beyond time to reform this broken institution that strips rights away with almost no accountability, and one good decision doesn't change that.
Update 6/8/23, 3:45 pm: This post has been updated with analysis from Cook Political Report.