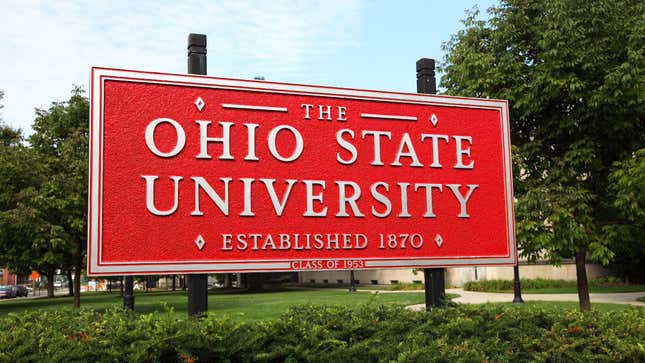 On Monday, the Supreme Court announced it would ignore the Ohio State University's call to reconsider a lower court ruling that empowers hundreds of alumni and former student-athletes to sue the billion-dollar institution for its role in enabling two decades of sexual abuse by a doctor in its athletic department, the late Richard Strauss.
Per the Associated Press, two cases that centered on Strauss' abuse were among the list of cases the court said it wouldn't hear. Last September, the Sixth U.S. Circuit Court of Appeals ruled to revive the lawsuits against the university, noting that a district judge had erred in dismissing them due to the state's statute of limitations in 2021. The ruling stated that the survivors—the majority of which are men—"plausibly allege a decades-long cover up" and "adequately allege that they did not know and could not reasonably have known that Ohio State injured them until 2018." The university then responded by seeking reconsideration from SCOTUS.
"Today, I have some relief that our system might be flawed, but truth and justice—should—and did prevail," Rocky Ratliff, an attorney representing one of the other two groups of Strauss survivors and a survivor himself, told Jezebel. "The Supreme Court, for me as an attorney, is hope for the average guy—for the little guy—and they proved it today by not hearing Ohio State's plea."
It's been a long fight against the university for Ratliff and the fellow survivors who've publicly sought to hold the university accountable since 2019. In October 2022, Jezebel exclusively reported that Ohio State had filed an en banc review—a rare legal practice that some survivors believed was an attempt by the institution to thwart their Title IX lawsuits—that noted that seven Midwest universities were standing in solidarity with Ohio State. The institutions included: Bowling Green State University, Cleveland State University, Eastern Michigan University, Michigan State University, Oakland University, Purdue University, and finally, Ohio State's rival, the University of Michigan. Notably, in the last three years, two of those universities—the University of Michigan and Michigan State—have both made national headlines for their own public reckonings with institutional sex abuse of student-athletes. Ratliff told Jezebel that 16 other universities had recently sided with Ohio State. The university also confirmed this in an emailed statement.
The en banc review arrived as yet another unpleasant surprise to the survivors. Strauss—who died by suicide in 2005—sexually assaulted hundreds of male athletes under the guise of medical treatment between 1978 and 1998. Per an investigation commissioned and published by the university in 2019, he committed at least 1,429 instances of fondling and 47 instances of rape during his tenure. It also found that "university personnel had knowledge of complaints and concerns about Strauss's conduct as early as 1979 but failed to investigate or act meaningfully."
Strauss' abuse was often enacted during health inspections that were mandatory for student-athletes, therefore many of the survivors—including Ratliff—never recognized what was done to them as anything more than an uncomfortable and invasive treatment until the 2019 investigation confirmed otherwise.
"The university remains committed to supporting survivors," Benjamin Johnson, an Ohio State spokesperson told Jezebel in an email. "Ohio State has offered multiple monetary settlements to all male students who filed lawsuits and has settled with more than half of the plaintiffs, 296 individuals, for more than $60 million. Ohio State is also covering the cost of professionally certified counseling and treatment for all survivors and family members."
"Ohio State is a fundamentally different university today than when Strauss was employed and over the past 20 years has committed substantial resources to prevent and address sexual misconduct," Johnson added.
Regardless, some survivors remain steadfast in pursuing their suits against the institution to the fullest extent, Ratliff told Jezebel: "The rich and powerful don't always win."