In 2006, Souhair Khatib went to a jail in Orange County, California to ask for more time to complete her community service. She wound up being jailed for several hours, and deputies made her take off her hijab, though she told them it's against her religious beliefs to remove her head scarf in public. Her case was dismissed twice when courts found that a holding cell is a some kind of special zone where laws that allow prisoners to wear religious garmets don't apply. Today the U.S. Supreme Court reviewed her case, and ruled that she can go ahead with her lawsuit against the jail.
The Associated Press reports that in 2006, Khatib and her husband, who emigrated from Lebanon then became U.S. citizens, pleaded guilty to misdemeanor welfare fraud. They were sentenced the three years of probation and given 120 days to complete 30 days of community service. Two days before the deadline, Khatib went to the court to ask for an extension. When he found out that she had only completed 15 hours of community service, he revoked her probation and had her jailed. Later that day she was brought into court without her hijab, and the judge granted her request for an extension.
At the time, an ACLU attorney representing Khatib said that deputies ordered her to remove her hijab because it could be used to choke someone. That might make sense, but another woman in the cell was wearing fishnet stockings and all the men were allowed to keep their shoelaces. Khatib's attorney says this is a "pretty blatant example of discrimination against Muslims," but it sounds like the deputies were just big fans of action films. When choking people out, movie henchmen usually use Muslim women's headcoverings, not a thin piece of rope.
Khatib's case will now go back to district court, but her lawyer says she hopes to resolve it ouside the courtroom, as her original intent was just to make the sheriff's department drop the ban on wearing the hijab in holding cells. She says, "They humiliated me. We have the right to [wear] our scarves."
Court To Let Woman Sue Over Headscarf Removal [AP]
Muslim Sues O.C. Over Right To Wear Head Scarf [LAT]
G/O Media may get a commission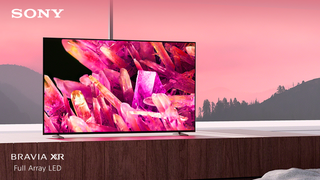 $400 off
Sony 55 Inch 4K Ultra HD TV X90K Series
Image via Mikhail Levit/Shutterstock.