Jeremy Renner—the frog-faced Avenger with a sixth grade boy's haircut—has caught wind of American Hustle co-star Jennifer Lawrence's essay on unequal pay in Hollywood. He's aware that many of his fellow actors are clamoring for an end to this discriminatory gap. But he doesn't especially give a flying fuck.
According to Jason Guerrasio at Business Insider, Renner will not join Bradley Cooper as a male ally willing to negotiate for fair wages. "That's not my job," the hawk-eyed gender warrior eloquently explained to BI, "I don't know contracts and money and all that sort of stuff."

It would seem, from this remark, that an MBA, law degree, as well as the ability to perform simple math are required to undertake the initiative Lawrence's essay has sparked. What's the Ren-Man to do? Feminism is so hard, and he is but a simple artist pursuing his muse. He clarifies—oh so fluently—his position for BI:
"I'm a performer and I know human behavior. When it comes to that sort of stuff I let other people deal with that. I do what I'm good at, that's what I focus on."

Ah, Jeremy. We know human behavior, too! Which prompts us to ask: are you, you know, human?
But of course he is! After all, he assures Guerrasio that he totally "supports actresses receiving equal pay as actors," but as we've established, "he's more focused on his craft than what everyone is making."
G/O Media may get a commission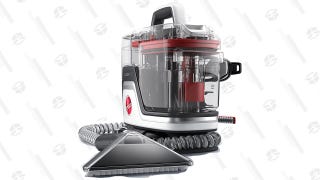 Save $10
Hoover CleanSlate Plus Carpet & Upholstery Cleaner
It must be simple to brush aside wage inequality when you're at the top of the payroll. And who really wants to attend extra meetings when you're perfectly content with your salary? That time could be spent honing one's craft, after all, or determining who the sluttiest comic book characters are. Ren-Man's got a busy schedule, folks.
So if you were wondering whether Jeremy Renner had decided to engage in less dickmongery behavior, you have your answer. Abso-fucking-lutely not.
---
Contact the author at rachel.vorona.cote@jezebel.com.
Image via Getty.