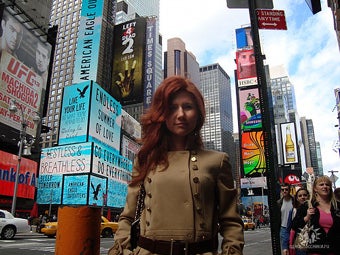 In good news for wordsmiths at the New York Post, who had officially run out of Bond film puns, there's a new twist to the Anna Chapman story: she had the hots for the princes royal:
Ecco: "British intelligence officials are investigating reports that accused Russian red-headed spy Anna Chapman worked her sexy secret-agent wiles on Princes William and Harry, the grandsons of Queen Elizabeth II." The deal is, apparently Chapman started going to this "private members club, which is notorious for its libertine atmosphere" with an eye to rubbing elbows with the princes charming.
Says some "friend": "I remember her talking about Prince William and Prince Harry, but she was very careful not to be seen as the sort of girl who hangs around waiting for them — even though that's exactly what she was doing." And! "As a regular at these places, Anna would have found it easy to get near the princes and was certainly pretty friendly with people in their world." And! No, wait, that's it.
But! "She also became friendly with a member of Britain's House of Lords." Said one Lord Anthony Lester, helpfully, "Whoever it is, is a fortunate person, because she's a very attractive woman." Anyhow, in what we assume is a matter of standard due diligence, British intelligence officials are apparently investigating the reports. The SEXY reports!