One year ago, in October 2011, I wrote a post titled "Is The Long Island Medium For Real?" I wondered whether or not Theresa Caputo, star of the TLC show, was using the technique known as cold reading. We all know that reality TV is not really real — conversations are edited out, producers arrange set-ups, the very act of being in front of a camera changes a person's behavior. In addition, it seemed to me that Caputo was, as someone once accused John Edward, "hustling the bereaved." Since that post, I have received a steady stream of emails from people either attempting to contact Theresa Caputo, or shaming me for not believing in Theresa Caputo. These messages have arrived more than once a month for the last 12 months.
Having lost quite a few people myself, I understand what grief can do to the brain. The desperate search for answers, the scrambling for clues, holding on to anything, anything that might relieve the pain. Some of the messages — sent from folks who stumbled upon my post but for some reason believe they are emailing Caputo — are simply heartbreaking:
I would like to make an appointment to see Theresa Caputo, I lost my brother recently and would like to see her personally.
This is my e mail at work and my cell phone is xxx-xxx-0998. Please let me know.
Hi my name is Pamela, I lost my 8 year old daughter 6 months ago to a brain tumor and would like to be placed on the waiting list.
I have watched your show since it came on, I have the need to hear from my son, it has been 10 years and I cannot say his name without crying.
But other messages are merely intended to convince me Caputo has a gift:
Why don't you get a reading from her and then decide if she is real or not. They show plenty of skeptics meeting her and she is fine with it. I would respect your opinion more if you had first had experience.
Perhaps you should go on the show if you have a loved one who passed. That seems to be the turning point.

I love watching the show in sunny Arizona. My teen daughter was watching one day and was hooked. I am fascinated by the tales.
I think you are a total ass!!! Theresa Caputo is the real deal, your brain is just to small to comprehend her God-given abilities. Do you honestly think she could get her children and husband to lie for her? Come on. She helps people to have closure, heals their pain and gives them messages of hope and love. And, then there are people like you, the low-life entities of the world who take up space and air that the rest of us need. The readings that Theresa does are an hour long, we only see small portions of the readings. Theresa is wonderful, I'm sure not too many people can say that about you.
MaryJane from CT
I believe Theresa is blessed with this talent she seems to be truthful n honest she maybe able to help some cold case files God Bless you Theresa I also wld like to see you this fall Atlantic city Cassino Hope to meet you soon
G/O Media may get a commission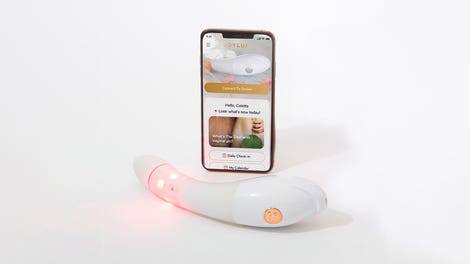 $50 Off
Joylux vFit Gold Device
Just last night, I received a long email which read, in part:
Like most, I have lost many relatives – some close, some not so close. There are a couple of spirits I would love to hear from (I don't want to give too much information upfront.) I am sure that one of them is anxious to speak with me, as there have been multiple instances that lead me to the certainty. I feel that I won't be able to be at peace until I know what messages this person wants to give to me.

There are so many things going on that should make it easy for you to verify the messages you receive, if necessary.
This email, in addition to including a home address and three phone numbers (many of the emails include quite a bit of personal information and identifying details), also featured the sentence:
Please also let me know what kinds of donations are appropriate for your help.
It's sad that there are so many people who feel that they cannot know peace without somehow contacting dead loved ones, but it's even sadder that many of them accept the idea that afterlife communication comes at a price. Apparently Caputo charges around $400 for 30 minutes. If you really believe she is hearing and seeing your dead grandfather, maybe it's worth it. If you think of her as a very intuitive grief counselor, she's overpriced. If she's a shotgunner and a cold reader, the cost is a ripoff. There's no charge involved if you go sit by a headstone in a cemetery and talk your feelings through.



The things Caputo usually tells people — don't be sad, embrace life, know that the person who has passed is with you — are the kind of things anyone might say to a grieving person. When Caputo was on Anderson Cooper's show, she claimed she felt the soul of a sister who had passed away. After a woman in the audience volunteered the information that her sister had died, Caputo asked the woman if she and her sister looked a lot alike. The woman nodded, but it felt like an educated guess: There's a very very good chance that sisters look alike, no? Caputo went on to talk about the sister playing with the woman's hair — again, something many sisters do, and the woman in the audience had long, straight hair, the kind you would braid and play with. But you know, I get it. People believe because they want to believe, because that's what faith is all about.
And so, I get messages like this:
I HAD A DREAM ABOUT THERESA CAPUTO LAST NIGHT THAT I MET HER IN PERSON AND WAS REALLY HAPPY. IN THE DREAM SHE WAS TELLING ME WE HAVE A LOT IN COMMON BOTH BEING BLONDE. WHEN I LOOKED INTO HER EYES ALL I COULD SEE IS THE BLINDING WHITE LIGHT AND I WOKE UP WITH COLD CHILLS UP AND DOWN MY ARMS. I'VE HAD MANY DREAMS THAT HAVE COME TRUE. MY FAMILY CALLS ME THE GLENDALE MEDIUM. I HAVE HAD THIS GIFT AFTER THE BIRTH OF MY SON 44 YEARS AGO. I CAN'T EXPLAIN IT, IT'S JUST THERE. I FEEL IT'S A GIFT THAT IS CONSTANTLY SURPRISING ME. I WOULD LOVE TO MEET THE LONG ISLAND MEDIUM SOMEDAY AND SEE IF SHE COULD SEE THAT SPECIAL SOMETHING IN ME. I WATCH HER SHOW EVERY SUNDAY NIGHT FAITHFULLY. I THINK SHE HAS A FANTASTIC GIFT AND IS ABLE TO EASE THE PAIN OF PEOPLE THAT HAVE LOST THEIR LOVED ONES. I THINK SHE HAS A GREAT FAMILY AND ENJOY HER HUSBAND LARRY, SMILE. TAKE CARE AND HOPE YOU ENJOYED READING THIS. I HAD A CLOSE FRIEND OF 6 YRS PASS 7 YRS AGO AND HE WAS A SMOKER. AFTER MOVING FROM NEW JERSEY TO ARIZONA AND DRIVING ON THE 101 I FIRST EXPERIENCED THE SMELL OF CIGARETTE SMOKE IN THE CAR. I WAS BY MYSELF AND NO ONE WAS WITH ME. THE CARS WERE FLYING PAST ME. I AM NOT A SMOKER AND NO ONE IN MY FAMILY SMOKES. I MYSELF FEEL IT WAS MY FRIEND DANNY'S WAY OF COMMUNICATING WITH ME TO LET ME KNOW HIS SPIRIT WAS THERE. I HAS HAPPENED MANY TIMES AND NOW WHEN I SMELL THE SMOKE, I JUST TALK AND SAY, HI DANNY, I KNOW YOU ARE WITH ME AND HOPE YOU ENJOY THE RIDE, SMILE. I COULD GO ON AND ON BUT I DON'T WANT TO TAKE UP YOUR TIME. IT WOULD BE A DREAM TO EVER MEET THERESA, LONG ISLAND MEDIUM IN PERSON. IT WOULD BE NICE IF SHE EVER RANG MY DOOR BELL, SMILE. NICE TALKING TO YOU. GOD BLESS YOU, YOU REALLY HAVE A PRECIOUS GIFT. THANK YOU FOR READING THIS.
Of course, not everyone is convinced. One email I got was firmly in the "she's a hustler" camp:
Unfortunately, people who I work with consider Theresa to be soooo blue collar and very low class. She is making money from the emotions of people who are in grief. Disgusting!!
And yet another person made an excellent point about Caputo's recent advertising stint:
If this series expects any one to believe Theresa is for real - the price line negotiator commercial is really tacky and really destroys her credibility. Bad choice. :o(