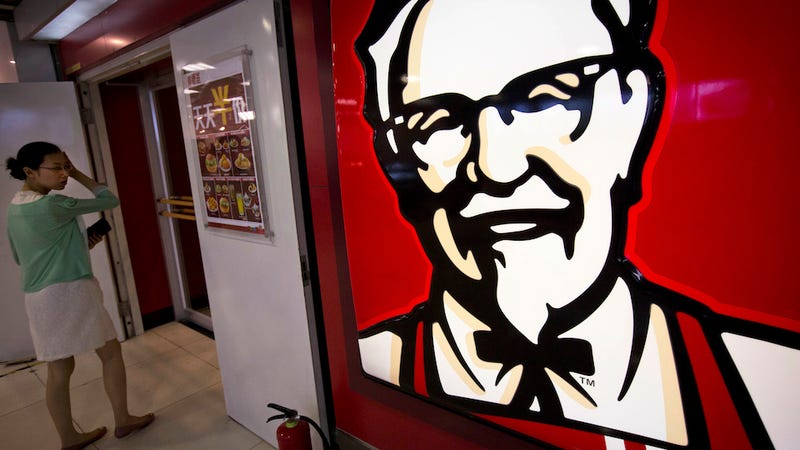 A woman in China who had just been dumped by her boyfriend decided to go grab some comfort food from KFC to deal with the pain and ended up staying at the restaurant for a week straight because she "needed time to think." Don't even pretend like you haven't been there.
26-year-old Tan Shen from Chengdu, China did not plan to stay for, well, much longer than a meal when she walked into the establishment for some fried chicken. She stated, via Yahoo News:
"I was walking around feeling miserable and decided to stop off at the KFC at the train station. I hadn't planned on staying there long, I just wanted some chicken wings. But once I got in there and started eating I decided I needed time to think. I didn't want to go back to my apartment because it was full of memories of him. So I stayed."
Shen called in sick to work (technically she was lovesick). At first the KFC staff didn't even notice her, but after about three days, they realized she looked a bit familiar (because she was sitting in the same spot, possibly wearing the same clothes for 72 hours).
One staff member recounted, "When we asked her if she was ok, she said she was and just needed time to think. And then asked for another box of chicken wings with extra large fries."
After a week passed, local media showed up, fascinated by her, Shen decided it was time to take off. Instead of going back home, she quit her job and went to stay with her parents:
"I had already told work I was off sick, so phoned them and said I was leaving. And I was getting sick of the taste of chicken so there was no point in staying there anymore."
"And I was getting sick of the taste of chicken so there was no point in staying there anymore."
That is my favorite post break-up quote, and one that I will use every time my heart is broken/every time I remember Jack Huston has a girlfriend and a daughter. Ugh, actually, I think I need to go think things over at an airport food court Panda Express. See y'all in about a week.
Image via AP.