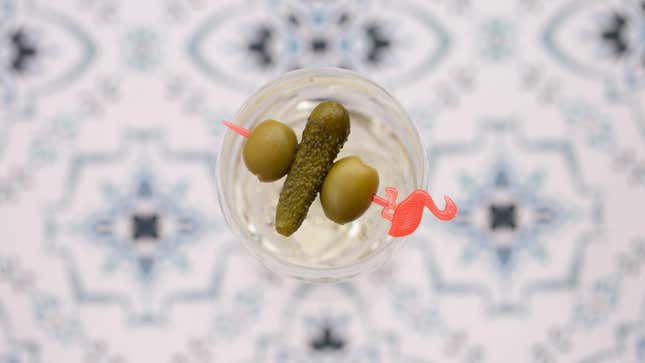 The official Drink of the Summer the last few years have leaned a little high maintenance if you ask me. Sure, an Aperol Spritz is refreshing and very pretty...but it's finicky, easy to screw up, and—after the 3,256 I've consumed in the last two years—starting to taste a little too syrupy. Similarly, an espresso martini, though it remains a welcome boost before a long night out, is a little too laborious.
Mojitos, daiquris, coladas, sangrias, and anything that starts with the word "frozen," all take a lot of work, and we've all worked too hard (mentally, emotionally, spiritually) for too long now. The official Drink of Summer 2023 should require the least amount of work for the most amount of buzz.
This leads me to declare, right here and right now, that the Official Drink of Summer 2023 is the Pickle Juice Martini.
This bright and briny cocktail had a little bit of a moment late summer into fall 2022, but we've yet to see it really make its mark on the culture. They've been patiently waiting in the wings of dive bars or redirecting whatever spotlight may fall on them to the pickleback shot. Then, two weeks ago, at a little cocktail bar in Williamsburg, there was a dirty martini on the menu made with their own pickle brine, a tajin rim, and topped off with two green beans. I thought: It's happening. Finally.
If you, like me (unfortunately), hate olives and olive juice, are sick of citrus (except for the classic "with a twist" option), and feel like you might throw up if you're handed another glass of rose, then the pickle juice martini might just save your life. (Mainly because pickle juice has plenty of hangover-busting electrolytes!)

All you need is pickle juice and vodka (or gin!). Shake with ice if you want. Vermouth if you enjoy. Add a spicy rim. Then drop your favorite little pickle on top. It doesn't even have to be in martini form (though it is delightful served this way): Pouring vodka and pickle juice directly into your mouth still counts as a cocktail, in my opinion.
Summer 2023 starts June 21, and has the potential to be the hottest summer of record, so if you're gearing up for a hot and feral girl summer, you don't want an Instagrammable cocktail that will try and outshine you. The pickle juice martini is humble, unassuming, and unpretentious—and it's ready to make your summer a really big dill ;)