In the spring of 1996, Italian Vogue cover model Wallis Franken stepped from her kitchen windowsill and fell to her death on the cobblestones below. Was her husband, the volatile designer Claude Montana, involved?
Ana Gasteyer Satirizes the Girl Boss in 'American Auto'
Maureen Orth's excellent Vanity Fair piece from September, 1996, just went online as part of that magazine's ongoing desultory digitization of its archives. It's a fascinating, sad story of an abused woman's life and eventual suicide, and of the ways in which the fashion industry does and does not change.
Wallis Franken was a Westchester County girl whose once-wealthy family of retailers was, by the time she reached high school, barely holding onto their home. Modeling, which she began doing when Eileen Ford signed her at 16, seemed like an easy way to financial security, travel, and independence. And, for a while, it more or less was: after her father died when she was 19, and her mother finally did lose the house, Wallis supported her and kept her in a spacious apartment. Although her look had worked well enough in New York, in Paris, her Louise Brooks bob and angular, androgynous body ignited something in the clients' imagination. This was the 70s, the era of cocaine and disco and sexual exploration, and Wallis seemed to embody the zeitgeist. She became a vegetarian, she married a Scientologist racecar driver, she partied with Anjelica Huston, she was snapped in her street clothes for Women's Wear Daily.
But most of all, she accustomed herself to the unfortunate kind of lassitude that often goes with having a job whose main requirement is to have a pulse and be agreeable. Franken learned to let her agencies, or her husband, handle her affairs, to be engaging, solicitous, and on time, and to never worry about the future because the present is its own bewildering curlicue of moments. As her friend and fellow top model Tracey Weed puts it to Orth,
Our bond was that we were survivors together, pampered and catered to but worked like horses...Wallis was a master of fitting in. We didn't learn any of the things that people who grew up more normally learned, like who you are, what you want, what is good for you and what is bad. Everybody smooches up to you so you'll perform that day.… We did not learn how to shoulder responsibility for our behavior and our choices...The message is that glamour is not what people make it out to be. It's a sick world where awful things go on. Think of a young girl not yet 20 showing up and being talked about as if she could not hear — spoken of as an object, criticized physically. This sort of orientation robs you of yourself."
G/O Media may get a commission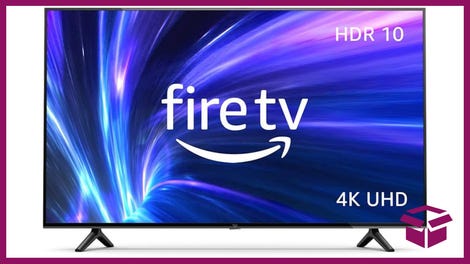 42% Off
Amazon Fire TV 50" 4K Smart TV
In modeling, you may sometimes have too much unstructured time, but always very little actual time to yourself — because at any moment a call might come and you might have to be across town or on your way to the airport in 20 minutes. There's no point thinking about the future, because your career unfolds bite by bite, casting by casting, job by job, and time telescopes down to a few more or less solidly scheduled days, and the week of dimly limned job options beyond. Anything at all could happen, or it could not, and what's next year when you don't even know about next week? Such is the curious logic of fashion's perpetual liminal stage, its cocoon, and for a model of Franken's status — her showlist in 1978 was longer than anyone's, she was a veritable Karlie Kloss of her age — it could be a comfortable enough cocoon indeed. And exhilerating: as the French nightclub owner and DJ Guy Cuevas reminisces, "Ah, those says were the oldies-but-goodies times. One night a new club was opening in the north of France — we all went on a private railcar, and Wallis wore this feather, and we were screaming, laughing.… Then came the punk, then came the sad." And, interjects Orth, there was cocaine: "Yes," agrees Cuevas. "It made for too lax a culture."
There were even worse times. The racecar driver, for instance, had the bright idea of packing off to Morocco when Franken was seven months pregnant with their third child:
She and Philippe and the two little girls drove a specially converted Land Rover into the desert of Morocco and ended up living for three months in a primitive Berber village. The adventure provided Philippe with an opportunity to shoot stunning pictures and write articles about the daring young couple living off the land. Wallis went right along, and, for the centerpiece of one glowing article, described what she later told friends was the horrendous birth of their third daughter, Fatima, as Philippe snapped pictures. 'One of the women clasped me round the bosom, another kicked me into a squatting position, and it all happened very fast, very easily. Then someone pushed a long braid of her hair down my throat. The idea was to produce dry contractions, like retching, to force out the placenta, and it worked. Next they stepped all over me — massage, you see, and very effective, I'm sure, except that a few days before, I'd fallen out of the car and injured my ankle. That was the first thing they trod on. Agony.'
Fatima died of sudden infant death syndrome back in Paris, aged 3 months.
When she met Claude Montana, her habit of intense, destructive, dependency on unsuitable men was long set. Montana was a flamboyantly gay designer whose star was in the ascendant, largely because he took elements of the late-70s gay subculture, like leather and studs and exaggerated, broad-shouldered silhouettes, and applied them with impeccable tailoring to a woman's body in a way that was then unheard of. His creativity and charisma attracted Franken, and her iconic status — plus the fact that with her short hair and boyish figure she embodied the exact sort of gender plasticity his work explored — drew his eye. They had a close, tempestuous friendship that friends say was marked by periods of physical abuse; over the 18 years they knew each other as friends, Franken retired from modeling and found herself occasionally destitute, while Montana's stature continued to rise through the 1980s. In 1992, however, after two critically well-received but commercially disastrous years at Lanvin, Montana was fired.
It's perhaps not a stretch to say that the two friends finally married in 1993 in the middle of Paris couture week at least partly because that was when all the fashion press was there to see it. It might have paid off, too, when Franken's old friend Stephen Meisel wanted to book her for a 1994 Donna Karan campaign, but Montana refused to let her fly back to New York for the shoot. His control of her was extraordinary, during their long relationship and, especially, after they were married. Once he beat her so badly she was hospitalized. Her friends knew: "I feel that no matter what Claude did, whether his hands were on her or not, the lifestyle he gave her, the way he abused her mentally, emotionally, physically, pushed her over the edge," says Weed. Her family knew, too: "I have no doubt that he was a contributing factor to my sister's demise, perhaps a major contributing factor," says Randy Franken.
'We all have the same idea,' echoes painter Vincent Scali, Wallis's witness at her marriage to Montana. 'Everybody knew that his part in her death was enormous.' How did Montana contribute? 'By treating her like shit, saying, "You're no one, you're nobody, you're a weight on my life." … He knew Wallis was weak.… We did everything in our power to keep her away from him, and she went back. She was a masochist.'
They all knew, and nobody directly intervened.
Although the police were made aware of the history of abuse, Franken's death was ruled a suicide, a finding that satisfied her surviving family, because, among other details, the window sill she jumped from was nearly six feet from the floor — it would be hard to imagine the short Montana pushing a tall woman out of it without leaving any sign of a struggle.
There was no music of hymns at her funeral in Paris, and the priest delivered a stern lecture on the evils of drug abuse and the perils of the fashion industry he derided as shallow. Montana did not speak to any other mourners, not even to Franken's daughters and grandchildren. He has never spoken to the press about his wife's death, even to this day.
Depersonalization and isolation can be the result of a life spent working with an ever-changing cast of characters, in strange corners of the globe. (I think I had about 10 or 11 addresses, as in where I received mail, last year. Counting places I just dropped my suitcases into for a day or two to do a job it might rise to 15, 20. And I'm a relatively underworked model.) I feel like I know what Tracey Weed is talking about when she says modeling does not generally teach what is good for you, what any human being needs to learn: I feel like I'm always meeting girls who maybe should be in school, but who are therefore smart enough to realize they exist in an economic system more willing to monetize their looks than their brains. Modeling is what you know. It's not easy, but it's easy enough. It's easier. It's familiar, and there are promoters and parties and nice clothes, there are good drugs, and exotic travels. The industry, with its everextending futureless present, can have a certain way of corroding initiative and drive. Everyone has their hobbies, and some (drawing comics, writing on the Internet) are maybe healthier than others (cocaine, musicians) but the longer you stay in the funhouse-mirror world, the less even those things seem like the real you. Sometimes it's as if every moderately successful girl I meet, to the extent that she thinks of a future at all, thinks in vague terms of becoming a stylist, or working at a store, or marrying someone wealthy. Or putting out an album. Or designing clothing line. Sometimes I catch myself thinking of writing a book in those same, bone idle terms. I think we all know, deep down, that just like Cuevas said, first comes the fun, and then the sad. Nobody leaves this easy industry too easily.
So Wallis Franken, who was beautiful and damaged, killed herself in May of 1996, and you should read about her, because her story is interesting and important. It's about the agony of aging in an industry that only tolerates youth — now truer than ever — it's about family and friends who stood by as she deliberately sought out the destructive attentions of a series of men. It's about isolation and poverty and drugs. But the main thing is, you should read it so you can know Wallis Franken's name. Because I didn't, until Maureen Orth's 13-year-old story popped up in an RSS feed, although I did recognize her pictures. And it's crucial, I think, in situations like this and in life in general, to at least try to look beyond the image to the woman herself.
Death By Design [Vanity Fair]