Spirit Week events like "Pajama Day" and "School Colors Day" are tremendously boring and overdone, so Red Wing High School in Minneapolis decided to mix things up. Rather than going along with the student council-approved theme in 2008 and 2009, students at the predominantly white school held "Wednesday Wigger Day," which involved wearing clothes that, "from their perspective, mimicked black culture." Or so says a black alumna who's filed a federal class action lawsuit.
Quera Pruitt, who graduated in 2010, is accusing the school's principal, superintendent, and the district itself of creating a racially hostile environment by doing nothing to stop the annual event. For those of you unfamiliar with the term, Courthouse News provides this etymology lesson from the lawsuit:
"Wigger is a pejorative slang term for a white person who emulates the mannerisms, language and fashions associated with African-American culture ... Wigger is a combination of the words White and Nigger. Wigger, within the Red Wing community, may also mean 'Winger Nigger.' Wangsta is also a pejorative slang term for a white person who emulates the mannerisms, language and fashions associated with African-American culture.
According to Citypages, though Wigger Day was never an officially sanctioned event, in 2009 about 60 to 70 students decided to ignore the school's declaration that Wednesday was "Tropical Day." Instead of leis and grass skirts, they showed up in, "oversized sports jerseys, low-slung pants, baseball hats cocked to the side and 'doo rags' on their heads. Some of the students displayed gang signs." Pruitt and her mother complained, and students were told to go home and change. In response students started a Facebook page celebrating the event. The tag line, "lets keep wigger wendesday goin til that cunt quits," seems to be directed at Pruitt.
Pruitt is seeking $75,000 in damages and says that as a result of the incident she became depressed and dropped out of track, cheerleading, and student council. She also refused to participate in the school's Martin Luther King, Jr. Day celebration because she felt it was a farce. The suit also argues:
"The defendants' deliberate indifference to the harm plaintiff experienced as a result of 'Wigger Days' was not only immoral, but as the Tenth Circuit made plain, it was illegal: 'It does not take an educational psychologist to conclude that being referred to by one's peers by the most noxious racial epithet in the contemporary American lexicon, being shamed and humiliated on the basis of one's race, and having school authorities ignore or reject one's complaints would adversely affect a Black child's ability to obtain the same benefit from schooling as her white counterparts."
G/O Media may get a commission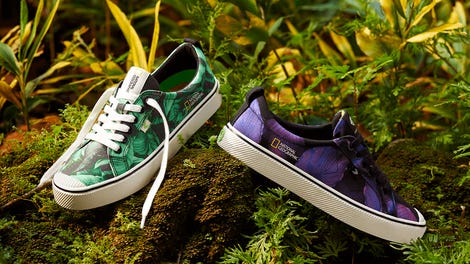 New New New
Cariuma + National Geographic
Pruitt's lawyer says that to this day, no one from the school has even apologized to her or her mother. The district responded to the lawsuit by denying her claims and saying it "looks forward to meeting these allegations in court."
Public High School Backed Racist 'Wigger Days,' Student Says In Class Action [Courthouse News]
"Wigger Wednesday": Black Student Sues School District Alleging Racism [Citypages]