A student newspaper at East Carolina University is in trouble for publishing unedited photos of a streaker in which you can clearly see his junk. They say they just wanted their fellow students to be able to see the, um, facts.
According to Poynter, the East Carolinian ran the story of halftime streaker John Sieglinger yesterday. He says his stunt was planned beforehand — he even gave friends money to bail him out of jail. And the editors of the East Carolinian say their decision to run uncensored photos naked body was equally premeditated. Editor-in-Chief Caitlin Hale released a statement saying,
The photos regarding the streaker in the Nov. 8 edition of The East Carolinian were purposely published. The news editor, managing editor and myself made the collaborative decision to publish the unedited photos. This decision was made because we felt that our audience, which is primarily the ECU student body, should have access to unedited and factual photos of the streaking incident at last Saturday's ECU football game. While the photos may be seen as offensive to some, the photos were not meant to be seen as sexually suggestive or insulting, but instead an accurate account of Saturday's events.
The university administration doesn't agree. ECU's Vice Chancellor for Student Affairs said in a statement,
We will be having conversations with those who were involved in this decision in an effort to make it a learning experience. The goal will be to further the students' understanding that with the freedom of the press comes a certain level of responsibility about what is appropriate and effective in order to get their message across.
G/O Media may get a commission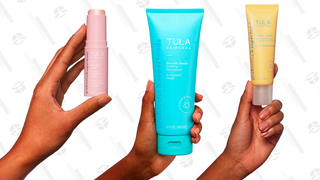 This sounds like a good response. Based on the general standards of papers nationwide, readers of a newspaper have a reasonable expectation that they will not see unclothed genitals. Said genitals didn't really add to the story of John Sieglinger — and, let's face it, "college guy streaks" isn't such earth-shattering news that precise and unedited photographic documentation is required. The East Carolinian is also the paper that published Ben Cochran's helpful column on slutty college women and their time-wasting birth-control prescriptions. It seems like their editors could use a little talking-to.
College Editor Defends Running Uncensored Streaker Photos [Poynter]
Editor In Chief Of East Carolinian Releases Statement After Paper Exposes Streaker [WNCT]
Streaker Takes The Field At Football Game [East Carolinian]